6 Great Threats to the Christian Family
The Christian family is under constant assault. Western hemisphere Christians have awakened to this reality in recent years as Western nations embrace everything from homosexual union as marriage, to legally forbidding parents from disciplining their own children, to restricted parental rights regarding health care. As serious as these issues remain, some of the deadliest enemies of the Christian family come from within rather than from without. Consider the following:
1. Luke-warmness— "I know your works," said the Lord, "you are neither cold nor hot. Would that you were either cold or hot! So, because you are lukewarm, and neither hot nor cold, I will spit you out of my mouth" (Revelation 3:15-16). May our Christian homes never be accused of such a state. We dare not limp along. We will not rest with consistently attending church, children enrolled in the youth group, and volunteering on Sunday mornings. We desire a family centered upon Christ. We labor to see the Word of God dominate our home, shape our common living together, and inform our conversations. We seek to be a beacon of light in our neighborhood, an encouragement to our friends, and a faithfully serving family in the church. We will not rest on what our family has done, but will seek to live more and more in light of God's grace and goodness.
2. Moralism—Morality matters to our family, but we treat moralism as an enemy. We are not laboring to simply do good, but to do good to the glory of God. As we live our lives, we seek to live in a manner that reflects the heart change we experienced in Christ. "Every healthy tree bears good fruit" (Matthew 7:17). Our fruit speaks of our root. As we parent, we are on-guard against raising mere moralists. We long to see fruit in keeping with true repentance and faith.
3. Legalism—Salvation is by grace alone (Ephesians 2) and we aim at a home filled with that grace. As we live life together, our family attempts to operate in grace. Grace established the banner of Christ's rule over our home and continues to hang by that same grace. "Having begun by the Spirit," we are not seeking to be "perfected by the flesh" (Galatians 3: 3). As a family, we seek the Lord in prayer and Bible reading. We call down His grace and influence and are quick to extend grace to one another. We are quick to forgive and grant forgiveness. When sin takes its toll, we respond with love and not guilt. Our children know discipline and rules are founded upon and exercised in parental love that will not disappear. They are reassured daily of that strong foundation.
4. Busyness—Our family-life is safeguarded. The trappings of this world possess little allure. The desire for more, success, and accomplishments does not drive our family. We choose our outside engagements carefully, so that we are not so busy that we miss the singular most important thing—pursuing Christ and serving His Church. The "rat race" of this world is not our race. We seek to "run with endurance the race that is set before us" (Hebrews 12:1).
5. Isolation—We live in community and our family does not define that community. The Lord sovereignly placed us in the Body. As members of the Body of Christ (Romans 12:5), we know we belong to others. Therefore, our family engages others in the church. We exercise hospitality, sacrificially love, and willingly allow others to minister to us. Furthermore, we recognize He placed us in our neighborhood, city, and county. Our neighbors are our neighbors. We live in a mission field which we dare not neglect.
6. Idolatry—Though we love our families, we seek not to love them inordinately. We endeavor to be worshipping families, not worshippers of our families. Therefore, though our family is precious to us, we sacrifice for the sake of others, Christ, and His Church. As we see all of life, so we see our family—it exists for Christ's glory and purposes. This means we abandon some things our family would enjoy, desire, and pursue for the sake of serving Him. We give, because of all He gave for us.
The Christian family is a battleground. The attacks come from without and from within. May the Lord grant us grace as we seek to live as a family for His glory and our very good.
The Story of Scripture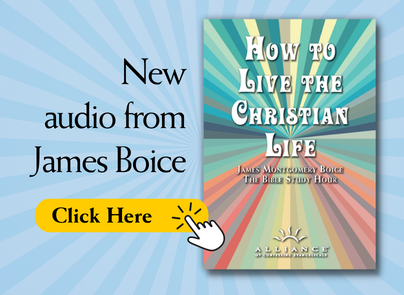 New audio from James Boice
Register for the Philadelphia Conference on Reformed Theology