Anne Ross Cundell Cousin – A Compassionate Friend
Anne Ross Cundell Cousin – A Compassionate Friend
The name of Anne Cousin is largely unknown today. It might sound familiar only to people to take the time to read the names of the authors of the hymns they sing. To most of them, Anne Cousin is known for one of her hymns: "The Sands of Time Are Sinking."
Anne's Early Life
Anne was born in Hull, in northeastern England, on 27 April 1824 – the only child of Anne Parker and David Ross Cundell, an assistant surgeon in the 33rd Regiment. Cundell died when Anne was three, and she and her mother relocated to Leith, Scotland.
Anne was educated at home, largely by Rev. Wyer, an Episcopal clergyman. Under his tutelage, she learned English, French, and Italian. She also took piano lessons from John Muir Wood, who operated a successful music publishing company. Later, she learned German and enough Greek to read the New Testament in its original language.
Although raised as an Episcopalian, Anne became drawn to the preaching of the Free Church of Scotland, particularly Horatius Bonar and Alexander Neill Somerville. The secession of some preachers from the established Church of Scotland and the subsequent birth of the Free Church occurred in 1843, when Anne was only 19.
The main reason for the secession (known as "the Disruption") was a disagreement about patronage, the right of patrons to establish ministers of their own choosing. But the demand that a church be free to appoint its own ministers included the desire for the pure preaching of the gospel, and many preachers of the Disruption were known for their strong defense of the teachings of the Reformation. This obviously attracted Anne.
In 1847, she married William Cousin, minister of Chelsea Presbyterian Church in London, which was part of the Free Church of Scotland. They had six children: four sons and two daughters.
The Making of Her Famous Hymn
The Cousins returned to Scotland in 1850, when William was called to the Free Church at Irvine, on the west coast. It was there that, four years later, that Anne wrote a poem that became her famous hymn. It was originally entitled "The Last Words of Samuel Rutherford," because the repeating line, "Glory, glory dwelleth in Emmanuel's land"[1] is a literal quotation of Rutherford's dying words.
"I wrote it as I sat at work one Saturday evening," she said in a letter forty years later, "and though I threw it off at that time, it was the result of long familiarity with the writings of Samuel Rutherford, especially his Letters."[2]
"Familiarity" is the correct word. While readers might recognize in her poem many of Rutherford's words, her work is not a patchwork of his quotations.
Rutherford's letters, written in the 17th century, were particularly popular in Anne's time for the comfort they provided. They were, in fact, written to provide comfort, the same comfort Rutherford received by God while exiled in Aberdeen, Scotland, "for his non-conformity to the acts of Episcopacy and his work against the Arminians."[3]
In her poem, Anne imagines Rutherford on his deathbed expressing his joy in approaching heaven. To do so, she used words he had written in his lifetime. For example, the first words of the poem, "The sands of time are sinking" are a poetic reworking of Rutherford's frequent references to the hour-glass God has set for each of our lives. The same goes for "the dawn of heaven," "the summer morn" Rutherford had sighed for. All of these are references to his letters and an indication of Anne's "long familiarity" with them.
There are also personal references to Rutherford's life. While in exile, Rutherford had often yearned to return to his parish in Anwoth. But, as Anne's poem says, "E'en Anwoth was not heaven. E'en preaching was not Christ." Conversely, as Rutherford explained in his letters, even Abderdeen, his "prison," as he called it, became "Christ's banqueting house"[4] through Christ's presence. And even the times when Christ seemed absent became profitable times of soul-searching.
But the main subjects of this hymn are the same subjects of Rutherford's writings: the beauty and sufficiency of Christ, and the assurance of his grace for those who "stand upon his merit."
Oh! I am my Beloved's,

And my Beloved's mine!

He brings a poor vile sinner

Into His "house of wine:"

I stand upon His merit,

I know no other stand,

Not e'en where glory dwelleth

In Immanuel's land.
This long poem (19 stanzas) was first published in 1857 in the Christian Treasury, but didn't come widely known until 1863, when J. Hood Wilson of the Barclay Church, Edinburgh, introduced a version of five verses (only the fourth and fifth of which correspond with the now popular version) into a hymnal, Service of Praise, in 1865. This was not her intent, because she didn't consider her poems suitable for congregational singing.
Other Poems
Anne's poems have been included in a collection entitled, Immanuel's Land and Other Pieces, published in 1876 under the initials A.R.C.. Some of these poems were turned into popular hymns, including "King eternal! King immortal" and "O Christ, what burdens bowed Thy head." This last one, with its sharp contrast between Thee and me (God's supply and my lack) was put to music by the American Ira D. Sankey and became a favorite in missions.
While most of Anne's hymns are celebratory, some deal with various expressions of human suffering, where Anne reveals uncommon empathy. One of these is "Reverses," a poem about Naomi, King David's great-great-grandmother, who opens the poem with the cry, "Call me not Naomi, call me Mara!" (Ruth 1:20).
Due to a famine, Naomi and her husband had moved to Moab, only to discover their prosperity would be short-lived. "Graves and widowhood were all we found," Naomi said in the poem. "Wild grows the vineyard, darkened is the dwelling, the heritage, the household, all a wreck." Even the joy of seeing her sons marry was fleeting, because both of them died, "with'ring the aged heart's last lingering greenness."[5]
But that was not the end of the story. Her daughter-in-law Ruth stayed by her side, "beneath Jehovah's shadow to abide," married a next-of-kin, and gave birth to Obed, who became grandfather of King David and ancestor of Jesus.
"Call me not Mara, call me Naomi!" Naomi exclaims in the last portion of Anne's poem, "The Almighty hath dealt lovingly with me."
Hard Questions
Anne doesn't shy from hard questions, no matter how painful. One of her poems, "The Burden of Dumah," is based on the question a man of Seir asked in Isaiah 21:11, ""Watchman, what of the night? Watchman, what of the night?" Anne's poem is a long lament of the state of people around her who seem to willingly ignore any thought of divine judgment. Her sorrow comes from knowing their earthly mirth and mocking of God will soon come to a painful end.
Long hath the noon of pride and wrong blazed high,

And Satan reigned,

And men blasphemed, and sin sent up its cry.

And earth complained.

But none were looking for the day of doom —

None prayed the year of the redeemed might come.[6]
Even the church is suffering.
For the sad Church, mom hath not broken yet.

To chase her fears.

Her path to glory hath been dark, and wet

With blood and tears.

Her eyes have failed with looking for the day,

It seemed so fair, but still so far away.

The darkness lingers, but she sings, * Tis well —

He Cometh now ! '

The storms that lay the cedars only swell

Her fig-tree bough.

Still as the world's sky threatens, hers grows bright,

Their cloud of darkness is her pillar light.[7]
In the case of the church, however, there is a happy ending. "The Bridegroom cometh! Hark! He calls thee home." But what if arrive home and our loved ones are not there?
This realization was a cause of distress for one of Anne's friends. Anne wrote a poem in reply, entitled, "Thou Shalt Know Hereafter" and based on John 13:7: "Jesus answered him, 'What I am doing you do not understand now, but afterward you will understand.'"
After describing the joy of a person who arrives in heaven, Anne wonders how she would react to the conspicuous absence of a loved one.
If then our glance falls on an empty place,

If there's a jewel lacking in love's ring,

If seeking for the welcome, warm embrace,

We meet but empty silence – could we sing?

Could the heart beat without a pulse of pain?

Would not a cloud o'ercast the beaming eye?

Would one sad string not mar our: harped strain? —

One shadow on our sun-bathed spirit lie?[8]
Anne has no definitive answer.
O God! we know, though yet we see not how, —

We know that none shall feel bereaved in heaven;

But oh! we are not asked to see it now,

While friends we love, not yet to prayer are given.
In encouraging her friend to be content with what we know, Anne is not dispensing some complacent formula aimed at dismissing uncomfortable thoughts. The rapid succession of five piercing questions in her poem tells us that she has immersed herself into her friend's agony. It might very well have been an agony she had experienced herself.
Scriptures reveals something, not all, about our future life, and we are not asked to know or understand everything, but Anne knows that the Scriptural assurance that God is wise and that our joy will be full is sufficient for those who have experienced God's goodness.
In another poem, "The Clouds Are the Dust of God's Feet," she reveals her own struggle with doubts, when the clouds seem to hide God's face. Even here, her comfort lies in remembering that the works of God's providence, both holy and wise, are motivated by his love.
Thou'rt holy in Thy providence, Lord God,

If I but understood!

I dwell in doubt and sick suspense, Lord God,

Confounding ill with good.

One dawn-streaked opening leads to light above,

Christ alway loved Thy will,

and proved Thy will is love.
Anne's Scriptural intuition of the love, goodness, and beauty of God sustained all her life, as she assisted her husband in Irvine, then in Melrose, and finally in his retirement in Edinburgh. The last years of her life were painful, with the successive deaths of her twenty-two-year-old son George, of her thirty-two-year-old daughter Isabella, and of Anne's husband, who died before his seventy-first birthday.
In sorrow, she might have remembered the words of comfort she wrote for another friend who was walking through a dark valley, wondering if she had strayed. (In fact, all of her poems sound as if they were written for us by a loving friend).
So we, sweet friend, one pathway tread,

Whether we walk 'neath light or gloom,

' With sun or star above our head,

Around us, blight or bloom.

May our own God but grant to me

An evening time of mellow light.

And bid the dawn soon rise on thee.

Thou Pilgrim of the Night.[9]
Anne continued her pilgrim way in good health until December 6, 1906, when she died at her home at the age of eighty-two. Four years later, her son John William included her in his Short Biographical Dictionary of English Literature.
---
The Story of Scripture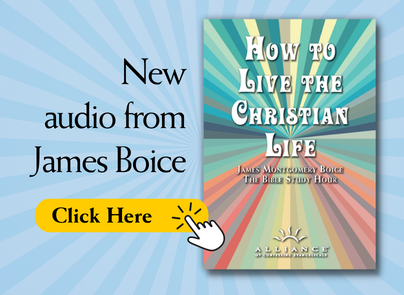 New audio from James Boice
Register for the Philadelphia Conference on Reformed Theology