Babies Are a Big Blessing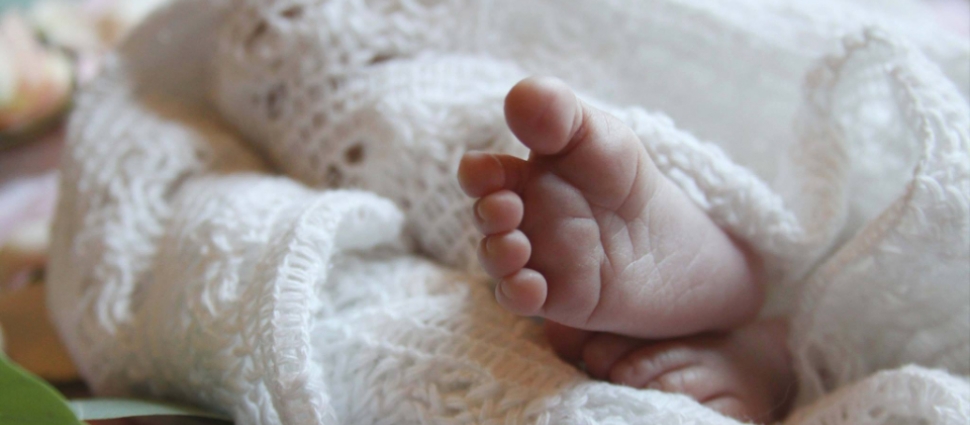 [Originally submitted in December of 2019, but retracted; see footnote number six.] Two weeks ago my wife went to Urgent Care during our morning Sabbath service to get important treatment. When she returned while I was leading our singing of the closing Psalm, she jubilantly waved at me through the cry room window. I was pretty sure her giant grin, glow, and gestures were about more than just getting antibiotics and that she had other news!
When the doctor on call confirmed she was with child, my wife laughed. She had been nervous that she couldn't conceive again. Her laugh was one of joy. The doctor laughed too—but his was one of mockery. Aware of our other young one, he left the room jesting, "They are a lot of work. Have fun with that!" Shockingly, the first thing he uttered after reporting the test results was, "Do you want to keep it?" My wife said to me, "They act like babies are insects." Frankly, sometimes they act like the rest of our children [we now have six] are a pack of dogs and that we should be spayed and neutered.
The world sees babies as burdens. But the Word says babies are blessings. Psalm 128 encourages us that God best blesses those who respect Him with many children to build their families and His Church.[1]
Psalm 128 focuses on people whom God "blesses" (verses 1-2 and 4-5) because they "fear" or respect Him. How does He especially bless them? The Geneva Bible notes explain of Psalm 128:3 that, Because God's favor appears in no outward thing more than in the increase of children, he promises to enrich the faithful with this gift.[2] God will normally bless a God-fearing man's wife to expand his home with many children around their family table. And verses 5-6 proclaim that Church growth comes from lots of covenant children. So Psalm 127:3-5 praises parenthood.
The world curses Christians for having many children for God. But Psalm 112:1 tells us, ... Blessed is the man that feareth the LORD, that delighteth greatly in his commandments (Psalm 128:1 says such a man "walketh in his ways"); surely this includes obeying the creation mandate to be fruitful and multiply. In contrast, the world's way is to agonize over babies and abort or avoid them—Psalm 1:1 warns us to shun its influence. For Psalm 127:1-2 reveals that the world vainly seeks to build a life at the sacrifice of children.
Psalm 128:2, 5 promise Christians they don't need to fear whether God will provide for many mouths and hands and a good life. So Psalm 34:9 assures us: ... there is no want to them that fear him.[3] Psalm 128:6 even extends Psalm 127's thoughts on children to envision grandchildren.
While visiting his extended family over Thanksgiving, one of our church's elders and his wife were just given a picture of them standing with their children's children. Marveling, he wrote to me:
When I saw this picture ... I was staggered by the size that the family has grown to. We now have 2 children, 6 grandchildren, and 8 great-grandchildren (this includes a baby girl on the way) ... All of our grandchildren and their spouses are professing Christians, and are all members of churches, and very involved. It overwhelms me to think that 50 years ha[ve] passed since I was sitting in that waiting room at the hospital and heard Linda's voice come over the PA system telling me that we had a beautiful baby girl ... This picture also shows me how quickly time really does fly, one moment you're a young man with all of life before you, and the next moment you have grown old with a huge heritage behind you ... The LORD has literally POURED A BLESSING UPON US!! Which I just can't hardly comprehend ... [4]
This Friday, my wife's primary care doctor first said of the good news in her womb, "Congratulations!" And learning of our burgeoning tribe, the nurse told us, "you are rich". Amen!
In 2018, I preached Psalm 127 to bless my wife and another woman who were both pregnant four months apart (as they are again) with the message, Pregnancy is Precious.[5] I am encouraged by one of my wife's mugs that reads, "My greatest blessings call me Mom."
This week we celebrate our youngest child's first birthday with Psalm 127. Next July we rejoice that he becomes a big brother with Psalm 128. For though they are God's joy wrapped in little bundles ... Babies Are a Big Blessing.[6]
Grant Van Leuven has been feeding the flock at the Puritan Evangelical Church of America in San Diego, CA, since 2010. He and his wife, Fernanda, have six covenant children: Rachel, Olivia, Abraham, Isaac, Gabriel, and Gideon. He earned his M.Div. at the Reformed Presbyterian Theological Seminary in Pittsburgh, PA.
---
[1] This is not to say that singlehood is not a gift and blessing from God, nor that families who can't have children or don't have many are not blessed. But it is intended to encourage those whom God has given a larger quiver to seek Him out to amply fill it without apology.
[3] See also Psalm 37:25: I have been young, and now am old; yet have I not seen the righteous forsaken, nor his seed begging bread.
4 Elder Emeritus and active Deacon, Mr. Ron Renner. He and his wife have since the time of this sermon enjoyed the arrival of more great grand children!
5 See https://www.sermonaudio.com/sermoninfo.asp?SID=6418043120
6 This article is based on the author's sermon by the same title, available to listen to here: https://www.sermonaudio.com/sermoninfo.asp?SID=612062221466. Both were originally submitted in December of 2019 and shortly thereafter retracted as he and his wife mourned a miscarriage. They now offer them both again to celebrate all babies as blessings including the one who was due this July but they trust is now with Christ; and to celebrate their new covenant son, Gideon Emmanuel Van Leuven, who joined their covenant family on November 4 of this year. And they rejoice to have celebrated his big brother's second birthday earlier this month (as well as their other four siblings' birthdays earlier in the year).