Blogging Through the Golden Book: The Life of a Christian Man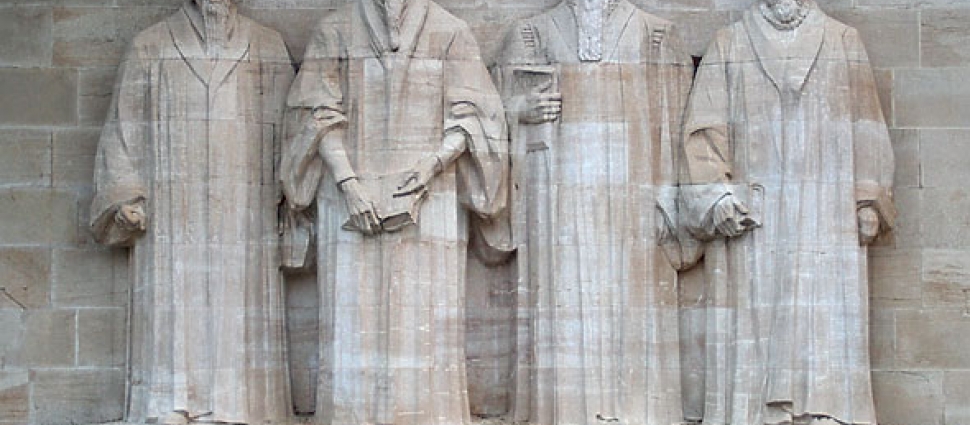 I remember the first time I saw John Calvin's personal seal—an outstretched hand holding a heart—in a hallway on the campus of Calvin College, now University, in Grand Rapids. Surrounding the upheld heart are the words of his motto, in Latin or English: Cor Meum Tibi Offero, Domine, Prompter et Sincere, or, "My Heart I Offer to You, O Lord, Promptly and Sincerely." Steven Lawson translates the last phrase by alliteration: "Eagerly and Earnestly."[1] This was the Genevan Reformer's aspiration—not as a cold logician or speculative academician—but a humble servant, wholeheartedly devoted to God. It comes as no surprise then that his treatise on Christian living is one of his most popular works, being published as a standalone volume more than any other section in his Institutes of the Christian Religion.[2]
Calvin introduces his treatise in Institutes, Book III, chapter 6, by tracing Christian living to regeneration. We are re-generated, or born again, from the inside out, confirming our adoption by God from the outside in. God's work in us and for us results in alignment between our actual obedience and God's standard of righteousness. The Ten Commandments are already a perfect summation of that standard, but we are nevertheless helped by further summaries of the total light the Bible sheds on this subject. And, according to Calvin, we need all the help we can get.
Calvin does not attempt to treat all of the virtues or to analyze any of them exhaustively, but to sketch a pattern and outline of righteousness according to God's Word. The Scriptures teach plainly and directly, while still inviting orderly summaries by examples such as the lists of virtues in the epistles of Peter and Paul. It may surprise new readers of Calvin that his own preference is brevity. So what is the Bible's point about practical Christian living? It is both to instill a love of righteousness and to guide that zeal so that we don't flail about in the dark, but aim at a clear target.
Calvin continues by discussing the right motives for Christian living. Chiefly, we are to be holy because God is holy (Lev. 19:2). Not that we come into communion with God by first being made holy, but that being brought into communion with God we must then be made holy. God cannot dwell with uncleanness. In this way, the Scriptures provide a higher motive for good or virtuous living than any mere philosophy can. Whereas philosophers can only root virtue in an understanding of nature, the Scriptures root it in Christ himself and his benefits. There is no greater pattern or motivation for righteousness than Christ himself, and, secondarily, the benefits he brings to us: reconciling us to the Father, washing us from our sins, uniting us to himself, dwelling in us by his Spirit, and securing our eternal inheritance.
Reinforcing his stance as a theologian of the heart and not simply the head, Calvin rounds out his introduction to this treatise by warning us of two opposite but deadly pitfalls, a kind of Scylla and Charybdis. First, a genuine Christian does not simply affirm the doctrines of grace with their minds and name Christ with their mouths, but the truth "must enter our heart and pass into our daily living, and so transform us into itself that it may not be unfruitful for us."[3] At the same time, the Christian life is best described as under construction. Perfect integrity is its goal, not where it begins. While we are not free to pick and choose what parts of God's law to accept or reject, all of us are in process. What is important is that we keep moving forward, however weakly. Though we will not attain fully until we depart from this earthly life, like prisoners being released to freedom, Calvin urges us to dedicate ourselves to daily progress during the whole course and remainder of it. In other words, to offer our hearts to the Lord promptly and sincerely.
Steven McCarthy The Rev. Steven McCarthy is a presbyter in the Anglican Diocese of the Living Word (ACNA). He and his wife live in their hometown of Lansing, Michigan where they are raising three young children.
---
[2]. e.g., in English, Golden Booklet of the True Christian Life, trans. by Henry J. Van Andel (Grand Rapids: Baker, 1952), and A Little Book on the Christian Life, trans. and ed. by Aaron Clay Denliger and Burk Parsons (Sanford, FL: Ligonier, 2017).
[3]. John Calvin, Institutes of the Christian Religion, trans. by Ford Lewis Battles, ed. by John T. McNeill (Louisville, KY: Westminster John Knox, 2011), Logos Research Edition: 688.