Calvin's Life: To Geneva & Back Again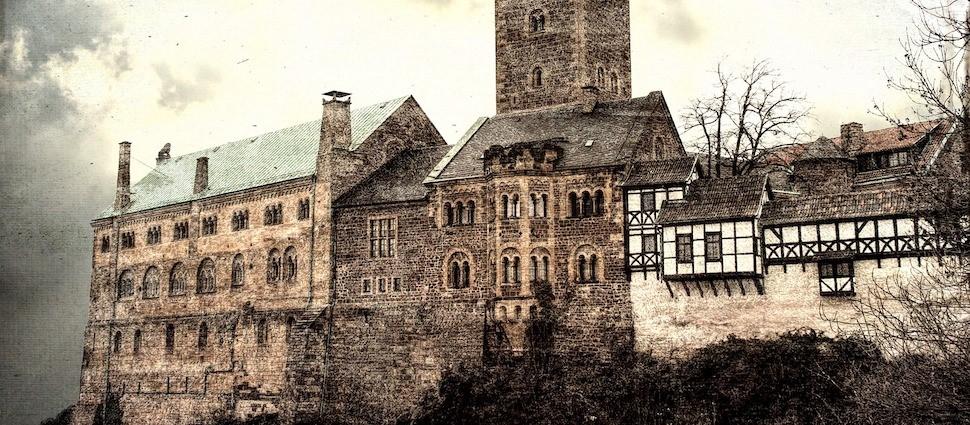 The reformer John Calvin has often been portrayed as a legalistic tyrant who endeavored to rule the city of Geneva with an "iron fist".  This characterization has, unfortunately, come to have the status of an unquestioned historical fact.  People who rely   on the opinions and assessments made by others and who fail to read Calvin's actual writings, will miss the true relationship that Calvin had with the civil authorities in Geneva.  A survey of Calvin's theological writings, personal correspondence, and records of the Genevan Pastors reveal a far different picture.  In the introduction to The Register of the Company of Pastors of Geneva in the Time of Calvin, Philip Edgcumbe Hughes includes a quote from Professor Basil Hall:
Those who wish to focus denigration of Calvin and what he stood for on his supposed cruelty and dictatorial powers fail to come to grips with two major facts.  First, if Calvin was a cruel man who did he attract so many, so varied, and so warmly attached friends and associates who speak of his sensitiveness and his charm?  The evidence is plain for all to read in the course of his vast correspondence.  Secondly, if Calvin had dictatorial control over Genevan affairs, how is it that the records of Geneva show him plainly to have been the servant of its Council which on many occasions rejected out of hand Calvin's wishes for the religious life of Geneva, and was always master in Genevan affairs?"[1]
Calvin's call to Geneva:
                The story of Calvin's call to the city of Geneva is well known.  In 1536, Calvin was forced to stay the night in Geneva, as the direct road from Paris to Strasbourg (his intended destination) was blocked due to the political turmoil between Francis I and Charles V.  Calvin intended to stay only one evening.  William Farel, however, was made aware of his presence and called down the curse of God on Calvin's intended "life of quiet study," if Calvin refused to stay and help with the work of the Reformation in Geneva.  It is significant that, by this point in time, the city of Geneva had "already committed itself to the Reformation."[2]  Philip Edgcumbe Hughes states that before Calvin's initial trip to the city:
The state had not only overthrown the papal hegemony and outlawed the celebration of the mass, but had also pronounced strict penalties against libertinism and mad church attendance obligatory on pain of fine…
And
All along, in jealously guarding what it consider its prerogatives, the state sought to have the last word and to exercise the power of veto.  Matters even of faith no less than of worship had ordinarily to be submitted to the Council for approval and ratification.[3]
Two things should be noted.  1)  The civil government of Geneva was already committed to the Reformation and was seeking to establish a biblical state.  Calvin did not "force his views" on the city.  2)  Calvin was not seeking to serve, much less rule, in Geneva.  He was "strongly persuaded" by Farel.
Calvin's Banishment from Geneva
In a letter to Henry Bullinger, dated February 21, 1538, two months and two days before his banishment from Geneva, Calvin wrote:
This, however, I will venture to throw out in passing that it does appear to me, that we shall have no lasting church unless that ancient apostolic discipline be completely restored which in many respects is much needed among us.  We have not yet been able to obtain, that the faithful and holy exercise of ecclesiastical excommunication be rescued from the oblivion into which it has fallen … The generality of men are more ready to acknowledge us as preachers than as pastors.[4]
                After his banishment from Geneva, Calvin hardly exhibited the traits of a man who desired to return to Geneva so as to become a tyrant controlling the city.  In fact, the reverse is true.  Calvin's correspondence and writings reveal a man committed to the church, yet, humanly speaking, very much desiring to be free from the problems of Geneva.  He writes in the preface to his Commentary on the Psalms that:  "I was not animated by such greatness of mind as not to rejoice more than was seemly when certain commotions caused me to be expelled from Geneva.[5]
Three things should be noted.  1)  Calvin was banished from the city.   2)  Calvin had not achieved his goal of the church controlling the exercise of ecclesiastical excommunication.  3)  Calvin was in fact happy to leave the problems of Geneva.  None of these things are characteristic of a tyrant! 
Calvin's return to Geneva
                Two years later, after he received word that the City of Geneva was considering recalling him to service, his frame of mind was still opposed to, and fearful of, working there.  In a letter to Farel dated March 29, 1540, he writes: 
Michael, also, the printer, has communicated to me at Blecheret, that my return thitherward might be brought about; but rather would I submit to death a hundred times than to that cross, on which one had to perish daily a thousand times over.  This piece of information I have wished incidentally to communicate to you, that to the utmost of your power you may set yourself to oppose the measures of those who shall endeavor to draw me back thither.[6]
                Note:  This is hardly the sentiments of a man seeking to be a "tyrant"!
In brief, the portrayal of John Calvin as a legalistic tyrant who endeavored to rule the city of Geneva with an "iron fist" is patently a bias, not the result of historical investigation.  Calvin's relationship with the city government can best be characterized as one in which the reformer consistently sought to live out, and live within, his understanding of the Biblical roles of both Civil and Ecclesiastical government.
Martin B. Blocki has served since 2003 as the Associate Pastor of the Reformed Presbyterian Church of North Hills in Pittsburgh, PA since 2002.  He is a counselor at the Biblical Counseling Institute in Pittsburgh.  Rev. Blocki graduated from Indiana University, Bloomington (BME), Arizona State University (MM), and the Reformed Presbyterian Theological  Seminary (MDiv).  Martin and his wife, Kathy, have two married sons, one daughter, and 2 grand children.
---
The Story of Scripture
2023 Annual Report
Register for the Philadelphia Conference on Reformed Theology