Christine de Pizan – Theologian and Mother
Christine de Pizan – Theologian and Mother
Christine de Pizan was the first professional woman writer in France, if not Europe. She is normally seen as an early feminist rather than as a theologian and a mother. But many of her writings are based on her study of Scriptures and the church fathers, and her questions about the role of women were triggered by her struggles as a single mother in a dangerous and cruel world.
Christine's Early Life
Christine's life started out joyful. Her father, Tommaso di Benvenuto da Pizzano, was an esteemed physician and astrologer at the University of Bologna. Her mother was the daughter of a counselor of the Republic of Venice, where Tommaso transferred in 1357, and where Christine was born about eight years later.
Soon after Christine's birth, Tommaso moved to Paris, France, on invitation by King Charles V, who appreciated his skills as both physician and politician. Tommaso's family joined him later. Taking advantage of the cultural opportunities and the impressive library they found there, Tommaso took care of giving Christine a thorough education.
At 15 years of age, Christine married Etienne Castel, the royal secretary, a man she described as handsome, "kind and fair."[1] Their union brought her much happiness, and produced three children: two boys and one girl.
Things began to change in 1380, when King Charles died, leaving the throne to his underage son. Because of this, the court was troubled by contests for power. Tommaso kept his position, but his salary decreased. His health also began to fail, until he died, sometimes before 1389, leaving his family in debt.
But the greatest turnabout of Christine's life was the sudden death of her husband in 1390, due to the plague. He was 34, and Christine 25.
A Single Mother in a Cruel World
Overnight, she became a single mother, responsible for the care of her children, her aging mother and a niece. Since, in those days, most husbands didn't share economic matters with their wives, she was unprepared for her new task and ignorant of the household's financial situation. This led creditors to demand more than it was due, and debtors to ignore their obligations. When an investor she had trusted with some of her funds pretended he was robbed and disappeared, the courts turned a deaf ear. In fact, she lost additional money on lawsuits that she invariably lost.
But widowhood gave Christine more time to study, something she had always loved to do, and she decided to put her talents to work. She had already written some poems on a large variety of subjects, including fond memories of her husband. Now she worked at refining them.
She soon found sponsors for her writings, and was able to turn it into a profession – something unusual for a woman of her day. In fact, she openly attributed her success to the fact her female voice was seen as an oddity. By the time she wrote her autobiography, she had written 15 major volumes and some minor works. Her writings included politics (as well as military tactics and diplomacy) and explored ways in which Christian men and women could best contribute to common welfare.
Seeing God in Adversities
But writing is rarely a solid means of support, and her popularity didn't mark the end of her financial troubles. In her autobiography, she employs a common writing technique of her times to describe how she came to accept her trials as wise acts of her omniscient God.
As the philosopher Boethius did in the early 6th century, she imagined the intervention of personified Philosophy, who rebuked her for attributing the painful events in her life to Fortune : "Because with respect to the death of the king and others, it is God who had ordained that they take place at that time as being to their benefit, as He does with all things. And if it had been better to leave them alive, He would have done so. And although God's judgments may seem astounding to you, it is not up to you to boldly dispute them. Being omniscient, He knows exactly what He is doing."[2]
Philosophy encouraged Christine to think of those who suffered or had suffered much more than she did, to the point of losing every earthly good, including health and limbs. "What shall we say about them and others who experience various tribulations in many forms? That they are unhappy, unfortunate, and hated by God? No, on the contrary! … Instead, they are the most blessed, since they come closest to the life of Jesus Christ in this world in every tribulation for your example."[3]
In the end, Christine was able to count her blessings, including her excellent education, her good children, and a beautiful marriage she enjoyed while it lasted.
Woman as God's Image-Bearer
Christine's most famous book is The City of Ladies. It was another imaginary conversation, this time between a woman named Christine and three personified virtues: Reason, Righteousness, and Justice. It hinged upon a question: Is the woman a defect in God's creation? Most of the things Christine heard and read from men of her time seemed to answer affirmatively. Even the Greek philosopher Aristotle, so well-esteemed during her time, saw women as deficient human beings.
"I concluded that God had created a vile creature when He fashioned woman," her protagonist says. "Indeed, I was astonished that such a worthy craftsman could have produced such an abominable creature. … Oh, Lord, how can this be?"[4]
Reason helps Christine to understand that the woman "was created in the image of God" as much as man, and "how can anyone dare slander the vessel that bears such noble imprint? … And if anyone says that it was a woman, Lady Eve, who caused man's fall from Paradise, I would say that man gained more through Mary than he lost through Eve."[5]
And, far from being created from a vile material, the woman was not even created from dust. She was created from the body of man. As many authors before her, Christine emphasized the fact that Eve was taken from Adam's side, to be his companion, and not from his foot, to be his slave, nor from his head, to be his superior. She agreed that men and women were created differently and played different roles in life, but they were both God's image-bearers and worthy of respect.
Christine based her defense of the dignity of women on both Scriptures and the example of virtuous women in church history. She even took a Latin proverb that men used to slander women ("God made women to weep, talk and spin") to show how Christ had compassion on the tears of many women, including Mary, Martha, Mary Magdalene, and, later Monica, mother of the great theologian Augustine. And Christ used Mary Magdalene's speech to bring the first announcement of His resurrection, and the Samaritan woman's speech to proclaim the coming of the Messiah to her town.
In other works, she explained how deeply a faulty view of the nature of women could affect the cultural and ethical make-up of her time. She specifically criticized the typical love stories of her day, especially the 13th-century best-seller, Le Roman de la Rose, by Jean de Meun.
These were usually stories of men who finally achieved the seemingly unattainable object of their desires. The trouble was, this object was usually a married woman - a quest that should have been discouraged rather than glorified. Besides, this type of writings depicted all women as superficial, weak and manipulative, perpetuating false stereotypes.
Christine's works include practical suggestions for promoting the wellbeing of women. In The Book of Three Virtues, she explains how women can serve God in their individual callings. While remaining faithful to the Medieval belief that the contemplative life of withdrawal from the world represents a higher calling (a teaching that was later refuted by Protestant Reformers), she admitted it was not her calling, and that the active life of serving others for the love of God rendered a greater service to the world. She then went on to give practical examples of how women can serve God in their individual situations, exercising prudence in their decisions.
Christine as a Mother
A manuscript in the Biblioteque Nationale of Paris shows a miniature of Christine teaching Jean from an open book. This goes along with her educational views, which she outlined in The Treasure of the City of Ladies: "The wise lady who loves her children dearly will be diligent about her education. She will ensure that they will learn first of all to serve God, and to read and write, and that the teacher will be careful to make them learn their prayers well."[6]
She described Jean as "clever and a good singer."[7] As time passed, she, like many educated parents with unreliable financial prospects, wondered how to send him to college.
In 1396, the English John Montague, Earl of Salisbury, a poet and admirer of Christine's poems, offered to take 13-year-old Jean under his wings and educate him in England. Christine saw this as a wonderful opportunity. One wonders if she knew that Montague was a Lollard (follower of a religious movement related to John Wycliffe) who criticized the corruption of the Roman Catholic Church and promoted the vulgate translation of the Bible. In any case, her emphasis on Scriptures and on the importance of Christian ethics in both life and society were not far from their teachings.
Christian wrote two booklets to encourage her son to love God and live well. One of the poems addressed to him starts with the admonition: "Love God with all your might, Fear Him and strive to serve Him."[8]
But the situation in England changed quickly. In 1399, Henry IV seized the throne from his cousin King Richard II and executed many of Richard's counsellors, including Montague. He then expressed his desire to keep Jean in his service, and invited Christine to join him. But England was then hit by the plague, and she had no desire to leave France. She looked for other patrons for Jean, and found one in Philippe le Hardi, Duke of Burgundy. Eventually, Jean became secretary and notary for King Charles VI of France.
Christine's last work was a long poem about Joan of Arc, a woman who (in Christine's view) used her God-given ability for the good of her country. Christine finished the poem in 1429 and died a year later, probably at the convent of Saint-Louis de Poissy.
---
The Story of Scripture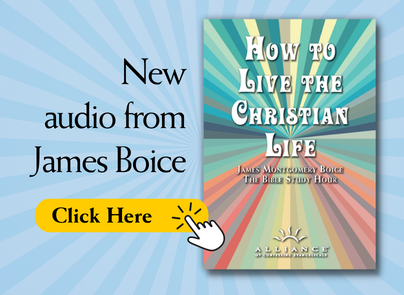 New audio from James Boice
Register for the Philadelphia Conference on Reformed Theology