Guidance and the Guide
There seems to be a never-ending market in Christian circles for books on guidance. The reason for this, of course, is that we as Christians (like all other human beings) want to make right decisions and choices in life. We want to avoid mistakes – especially when they often run the risk of major and, at times, disastrous consequences.
Many of the books written on this topic have been of the highest quality and have a great deal to teach us about what it means to discern God's will. However, in not a few of these volumes one key factor is often missing: they are so focused on the mechanics of guidance that they overlook the central importance of the God who is our Guide and our relationship with him.
The issue at stake is that we can easily slip into the mode of treating God's directions for our life in the same way as we treat the GPS in our car. The 'voice' is steadily feeding out her directions and the arrow on the map is reinforcing them; but every so often we choose to ignore the 'voice' and take a different turn. And even though the ever-more-frantic voice is pleading, 'at the next junction, make a right' we plough on regardless. Why? – Because at those points along the way we don't actually trust the guide and believe we know better. Indeed, on not a few occasions, the poor GPS ends up on the receiving end of tirades of abuse from the very drivers it is seeking to assist.
The Bible makes it clear that guidance is not merely about the instructions God gives by way of direction for our life. Fundamentally it is all about our relationship with him as our Guide.
This becomes very clear in Psalm 25 – a psalm of David that is very much about God's direction through a particularly turbulent time in his life. Guidance-hunters reading this passage quickly latch on to statements like, 'make me to know your ways', 'teach me your paths' and 'lead me in your truth' (Ps 25.4-5) and how they are linked to the promise of prosperity and inheriting the land (Ps 25.13). However, when they approach the psalm from this perspective, it leads to a very formulaic approach to seeking God's direction. 'Tell me what I need to know, or what I need to do, and I will carry out your instructions'.
The problem with this way of seeking God's direction, not unlike our attitude to the 'voice' of our GPS, is that it is all too easy to hit the 'suspend guidance' button when we think we know better. For this reason, we need to realise how crucial it is to read the psalm in its entirety and not just selectively for those verses that resonate with those warped instincts that remain within us as Christians and which we often fail to reckon with.
Although there is indeed a very visible thread of 'the guidance God gives' running through the psalm, it actually begins with David's heartfelt affirmation of the reliable guide that God is. It opens with the words, 'To you, O LORD, I lift up my soul; O my God, in you I trust' (Ps 25 1-2a). And it goes on, 'Indeed, none who wait for you will ever be put to shame…' (Ps 25.3). In other words, the psalmist is declaring his absolute confidence in God as the perfect guide. The way he orders the lives of his children – both through the instruction he provides in his written word and through the 'powerful word' of his providence (He 1.3) – is flawless. More than that, as Paul makes clear in what he says about the underlying purpose in all of God's words and ways, it is for the good of 'those who love God…who are called according to his purpose' (Ro 8.28).
As with every child of God we meet in Scripture, the course of David's life was fraught with perplexing twists and turns – right down to the very end. Yet, like every child of God we meet in Scripture, David was deeply concerned to know God's will and his way and follow it. He knew from painful experience what it was like to wander from his ways and find himself in situations where he needed God to 'restore' his soul and 'lead' him afresh in right paths for the sake of God's name and honour (Ps 23.3). But what is so striking about that famous psalm – one that is arguably the quintessential statement about God's guidance found anywhere in the Bible – is that it is all about the relationship between David and God as his Shepherd-Guide.
It is a living and dynamic relationship with the living God who personally engages with his people through his word and providence. And even though there are many times when we, like the people of God we meet in the Bible, fail to grasp or completely misunderstand where God is directing us. Nevertheless we are upheld by the knowledge that his ways are both right and best.
Job is perhaps the best example of this in Scripture. In one sense he went to his grave wondering 'What was that all about?' because so many aspects of his dark experience were never explained. But what he held on to – even in the darkest of them – was the fact he knew his heavenly guide and he had every confidence that he would bring him safely to his final destination. He could say, 'He knows the way that I take; when he has tried me I shall come out as gold' (Job 23.10).
There are times in life when it can be quite exhilarating to dare to trust our GPS and find ourselves on roads we have never travelled before, but know that they will lead us to our final destination. How much more so when we dare to trust the Supreme Guide and Guardian of our souls, even Jesus Christ our Saviour. He will almost certainly take us to places and along paths that we would never have chosen for ourselves and which may scare us a little along the way; but as we travel them, with our hand in his, he will bring us safely to where we need to go.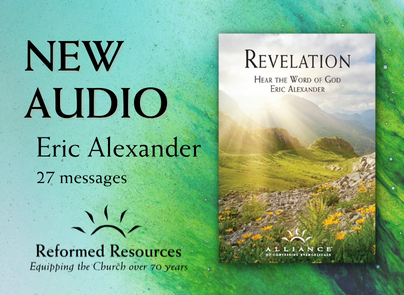 Revelation—New from Eric Alexander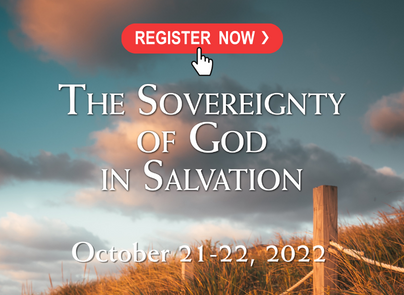 John Currie at the Eastern Shore Reformed Conference