Heaven on Earth? Protestants & Dante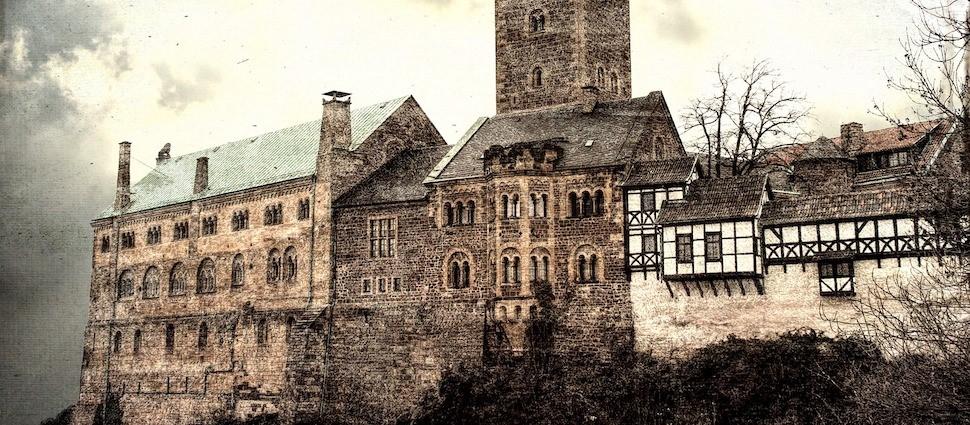 I have the pleasure of meeting with some very bright high school students twice a week to think through worldviews and the history of ideas. A large part of our time is spent discussing some of the great books of Western Civilization and this fall we've been reading through and discussing Dante's Comedy. The question that continually arose, at least during the beginning of our reading and discussions, was how to read and benefit from a book, a poem really, that was not only so foreign to what we're used to reading today, but a work that was so, well, Roman Catholic. Dante's discussions of Catholic saints, of prayers for the dead, and an entire section devoted to the very unbiblical idea of Purgatory! What benefit, if any, is there for Protestant, Sola Scriptura affirming Christians in reading such a treatise. Here are some of my reasons.
Dante's Divine Comedy is an allegorical epic meant to draw our minds towards contemplating truths in and through artistic images. It is a parable, of sorts, not meant to  be read as a systematic theology. Much in the same way John Bunyan's Pilgrim's Progress displays spiritual truths through inventive scenes. We don't treat Bunyan's scene of Christian crossing the Jordan into glory as a literal description, and so we shouldn't with Dante.
Dante thus invites us to read his travels through the Inferno (Hell), Purgatorio (Purgatory), and Paradiso (Heaven) as more of a contemplation for how to live now than as a literal description of the afterlife. Indeed, the very first line of his epic includes us in his journey: "Midway in the journey of our life..." Here is a man, midway through life - having a "mid-life crises", if you will - and he's just awoken to find himself in a dark wood. In other words, he finds himself lost amidst his midlife slumber.
But by God's grace he's now woken up to his lostness. He's at least aware. And what he does is now invite us likewise wake up, become aware, and now travel with him down into the darkness of Hell. And it's there in the Inferno where Dante, in his crisis, fears his life and our lives are heading.
And once he's there and he see's what sin really leads to he's led to a place where he can begin to work out his salvation in fear and trembling; a purging of sorts in Purgatorio. And this, in the end, will lead him, and us, to behold the end for which we were created - the beatific vision of God in His glory. And all of this is done within his lifetime and before he ever dies. Will such a pilgrimage have an effect upon his life and yours? Dante thinks so.
Dante's guide is the Roman poet Virgil. Does this mean that Dante think's Virgil, who didn't know of nor believe in Christ, was actually saved and allowed into heaven? Probably not. Virgil actually isn't allowed to guide Dante into Paradise; he must stop short and allow Beatrice to guide Dante the rest of the way. Dante, I think, is expressing the idea that great writers, and beautiful poetry in particular, have done much to help him contemplate the beauty of God. Here then is Dante's gratitude to Virgil, the most beautiful of human poets, who has stirred Dante's heart to seek after the most Beautiful Poet. There's a lesson here for those who only listen to the artistically sub-par music (generally speaking) of Contemporary Christian Music.
As many commentators have noted in the past, Dante is inviting us to likewise wake up from our spiritual slumber and to embark on a tour of what lies beyond, a tour which ought to, hopefully bring sanctification. Here Dante is acting on what John says in 1 John 3:2-3, where we're reminded that there is something actually purifying about looking forward in hope to what we will be in glory "Beloved, we are God's children now, and what we will be has not yet appeared; but we know that when he appears we shall be like him, because we shall see him as he is. And everyone who thus hopes in him purifies himself as he is pure."
This concept, I think, gives us, even as Protestants, great benefit in reading Dante. But still, why read his section on Purgatory if Purgatory is, for all intents and purposes, a fictional place? And I think the answer is this: because for the believer, purgatory is now. We are being sanctified and conformed more and more into the image of Christ now! And that's what Dante is dealing with in this section of his Divine Comedy.
There is this wonderful section in the Purgatory, in Canto's 19 and 20, where these yet-to-be-glorified but still hopeful souls are walking around repeating, actually meditating upon, Psalm 119:25, "My soul clings to the dust; give me life according to your word!" In life they were people full of pride, but now in Purgatory they are humbled - literally by a massive boulder weighing them down and causing them to walk in lowliness! But their realization is more and more that it is a good thing to be humbled over sin and to find life not in their own will and wants but in God's word.
Here, Dante meets one of his old drinking buddies, Forese Donati. Donati, along with other penitent souls who were once committed to drunkenness and gluttony are said to have "dark and sunken eyes, pallied in the face and so gaunt, that the skin took all its form from the bones" (Purgatorio 23:22-24). Then the poet makes a fascinating comment. He says, "Their eye sockets looked like rings with gems; and he who sees 'omo' written into the visage of men would have recognized the letter m" (Purgatorio 23:31-33).
In other words, their faces have become so thin, their eyes so sunken, that the nose and cheek bones form the letter m, with the eyes forming to o's in the middle - that is, spelling the word omo, Latin for "man." Jason Baxter, commentating on this account, points out that these sunken-face souls, while contemplating on and reading Scripture and groaning under the pains of Purgatory (think here of Romans 8), their very faces are being rewritten, so that their humanity is now becoming apparent once again. Dante's old drinking buddy, Forese, was, as a drunkard, a text poorly written. But now, through God's purifying grace, he is being rewritten back into true 'omo'; his true humanity being restored.[1]
Dante weaves accounts like this in almost every page, leading the careful reader to contemplate not only the end for which vice will lead a man, but the grace of God in virtue and upon heavenly contemplation. I imagine Dante would have nodded with deep approval at the Puritan practice of memento mori, remembering death. Keeping an eye towards the afterlife, whether it be the glories of Heaven or the terrors of Hell, ought to produce a purifying - a spiritual purging - upon the true believer now. It is here where Dante and his beautifully written epic can serve the thoughtful and heavenly minded Christian.
Stephen Unthank (MDiv, Capital Bible Seminary) serves at Greenbelt Baptist Church in Greenbelt, MD, just outside of Washington, DC.  He lives in Maryland with his wife, Maricel and their two children, Ambrose and Lilou.
---
[1] Jason M. Baxter, A Beginner's Guide To Dante's Divine Comedy. (Baker Academic, Grand Rapids, MI. 2018), 110-111.
The Story of Scripture
2023 Annual Report
Register for the Philadelphia Conference on Reformed Theology