Heaven on Earth?: Where do I go when I die?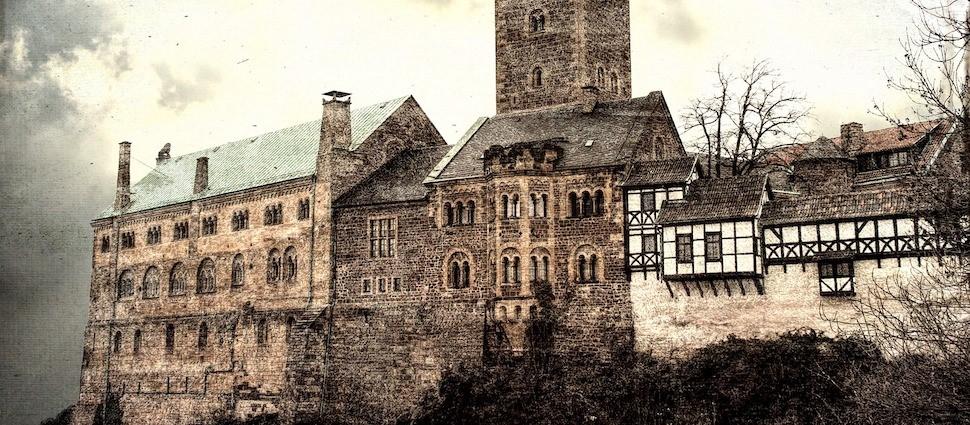 Where you going, Dad?
This question, above all others, comes from the lips of my now 10 year old son. He has always, from his earliest days, been keenly aware when I'm walking out the door, or even looking like I might walk out of the door. Then, it comes: "Where you going, Dad?" With pastoral work, especially counseling, I'm not always able to tell him specifics: out to meet with someone, a meeting, to counsel with somebody. Any of these has come to satisfy his urge to know: where is dad going?
There's a more important question about my destination that I'm much more concerned to pass on to him: where I will go when I die. When that day comes, and my heart beats its last upon the earth, I want him to know just where Dad went. But this question is larger than for just me. Everyone eventually confronts this question. So far, the ratio of births to deaths is 1:1, and it doesn't look like that will change anytime soon. So, where are you going, friend?
First, we should be clear that everybody goes somewhere when they die. There is an existence beyond this one. No one fails to slip the surly bonds of earth. In discussing Christ's second coming, the writer of Hebrews reminds us: As it is appointed for men to die once, but after this comes the judgment… (9:27, MEV). One cannot be judged, if he no longer exists.
Second, we should be clear that there are only two places that one might go after they die. From the Roman Catholic Church to Mormonism, there are those who claim to agree with what the biblical says and, yet, so many continue to add places to land post-death to the biblical eschatology. Heaven or Hell. These are the options. We see this no more starkly presented than in Jesus' story about "The Rich Man & Lazarus" (Luke 16:19-31).  Now, you may want to debate whether there really was a Rich Man with a beggar who lived just outside his house name Lazarus. While I believe there was, Jesus grounds this story, a parable, in the historical truth. When he was done, nobody said: "Awwwww, Jesus, you almost had us there! Everybody knows that [insert unbiblical, personal eschatology here]!!" No. They all knew that when you die on earth, you live on in either a place of blessing and reward or of punishment and misery. Additionally, no one asked where the people were who were in purgatory, limbo, celestial kingdoms, etc.
Third, we should be clear what guarantees entrance into those two places. For Hell, that's easy. We are born condemned after our father Adam's fall. Jesus reminds us of this in John 3. He didn't have to condemn the world, because it was already in that predicament. For Heaven, one must be saved by saving faith, that faith which is of God and finds as its only object Jesus Christ, the Son of the Living God who gave his life as a ransom for many. Paul, the Apostle, said it best: "For those whom He foreknew, He predestined to be conformed to the image of His Son, so that He might be the firstborn among many brothers. And those whom He predestined, He also called; and those whom He called, He also justified; and those whom He justified, He also glorified" (Romans 8:29–30, MEV).
Fourth, we should be clear just what heaven is all about. The Apostle John described heaven in his recording of the Revelation that he had while a prisoner on Patmos. Just this portion tells us that Heaven is so much more than we could ever imagine or hope for:
I saw no temple in the city, for the Lord God Almighty and the Lamb are its temple. The city has no need of sun or moon to shine in it, for the glory of God is its light, and its lamp is the Lamb. And the nations of those who are saved shall walk in its light, and the kings of the earth shall bring their glory and honor into it. Its gates shall never be shut by day, for there shall be no night there. They shall bring into it the glory and the honor of the nations. No unclean thing shall ever enter it, nor shall anyone who commits abomination or falsehood, but only those whose names are written in the Lamb's Book of Life (Revelation 21:22–27, MEV).
If we're not happy with the things of Jesus, the gospel, and the glory of God on earth, we most certainly won't be happy with Heaven. Heaven isn't the perfection of what WE want on earth in our sinful flesh. No. Heaven is all about Jesus. John Piper put it well when he said:
The critical question for our generation—and for every generation—is this: If you could have heaven, with no sickness, and with all the friends you ever had on earth, and all the food you ever liked, and all the leisure activities you ever enjoyed, and all the natural beauties you ever saw, all the physical pleasures you ever tasted, and no human conflict or any natural disasters, could you be satisfied with heaven, if Christ were not there? (John Piper, God Is the Gospel: Meditations on God's Love as the Gift of Himself)
If you don't like Jesus here, you won't like him there.
Finally, we should be clear that we want others to believe and to enter Heaven. Like Joshua stated, as the options were laid out before God's people as their wilderness wandering came to a close, giving that cosmic cheat sheet, we say: "I have set before you life and death, blessing and curse. Therefore choose life…" (Deuteronomy 30:19). Yes, friend, choose life. Choose today. Choose Christ and live in him. Know that when you die that you will be with him. (2 Corinthians 6:8)
Joel Wood is the pastor of Trinity RPC in Burtonsville, MD, between DC and Baltimore. He holds M.Div. and D.Min. degrees from the Reformed Presbyterian Theological Seminary and is 1/4 of The Jerusalem Chamber podcast, a roundtable discussion about the doctrine, worship, and piety of the Westminster Confession of Faith.
The Story of Scripture
2023 Annual Report
Register for the Philadelphia Conference on Reformed Theology