Humiliation & Exaltation: Christ's Death
As we grow nearer in our series to the end of Christ's humiliation, his death, then, his burial, it is, at this time, we begin to see a growing dissonance between who we know him to be and the events that unfolded around him. When thinking of the redemptive realities of Humiliation and Exaltation, the matter of Christ's death speaks really to that full set of events leading to that moment when he would breath his last, His Passion. Throughout that handful of days, we see this on the human level, with the turning of every relationship around him toward hatred, abandonment, and seeking, ultimately, His death. We then also note the spiritual dimension, what Christ experienced internally as he fulfilled the work he agreed to with the Father to redeem God's people.
This begins with being betrayed by Judas. One of his inner circle and one whom up until the final hours of his life did he show great respect and care for (John 13:26). Most of us can probably relate to betrayal by a friend, someone we cared about deeply. Even in the most painful of those broken relationships on earth, though, that is still a sinner betraying a sinner. Here, the excruciating reality is that Judas is betraying his Master, indeed the Lord of all the cosmos, for the price of a slave (Matthew 27).
Judas betrayal was painful, but only the beginning. "Awake, O sword, against my shepherd, against the man who stands next to me," declares the Lord of hosts. "Strike the shepherd, and the sheep will be scattered; I will turn my hand against the little ones (Zechariah 13:7). This prophetic word was fulfilled as the Twelve virtually evaporated before Jesus eyes (Mark 14:7). He was completely forsaken by them. Even John, whom he loved and to whom He was so close (John 13:23), who followed behind, lurking in the shadows (Mark 14:51) abandoned Him. Even by Peter, who would fight to the death to protect him (Matthew 8), and lopped off the ear of one of the Temple guards in protest of Jesus arrest (Mark 14:47) would, within hours, swear up and down that he did not even know the guy (Matthew 26:74).
In moments of despair we might cry: "The whole WORLD is against me!" This overdramatization was no exaggeration for our Lord. Within one week, the Jews of the nations went from crying out for His Coronation (Mark 11:9) to demanding that a slayer be given them rather than the Savior (Matthew 27). They hated Him. This moment smacks of political disappointment, much like we might witness today. However, Jesus didn't fail to follow through on promises passed out like candy while stumping. No, he simply fulfilled the Father's plan over-against what fallen humanity had conceived as His best work to be done now. In their unrighteous indignation, Jesus was hauled before the civil ruler to get his opinion. Though ultimately washing his hands of the whole thing, Pilate could not scrub his name from the cast of characters who, with no regard, condemned Jesus to die, turning him over to those who would rip out his beard, spit in his face, mock his regal authority, belittle His prophetic office, jam a crown of thorns on his head, slap him, and whip him until his back was shredded meat (Mark 14:64-65; John 19). We should certainly give pause to consider our own deserving of this treatment. It was our griefs that he was bearing, our sins he was carrying.
But, the external, relational suffering was not the end. The internal realities of this moment were even darker, hard as that might be to imagine. No one wants to die. Even our Lord prayed that a realistic "Plan B" be revealed (Matthew 26:39). We saw His agony in facing death manifested in sweating great drops of blood (Luke 22:44). What would we see, if we could gaze upon his soul in that moment? Oh, the weight! Far greater, the crushing reality of bearing up under the very curse of God. This was what he was born to do. From Genesis 3:15, God's people had believed that this one would come. And here He was. How could this be the crushing of the Serpent's head? How could this be victory? In this moment, He offered up His life for ours. The Begotten of God for the Elect of God. Our sin took him there. Our life motivated Him to see it through. The World, all its kingdoms, the Devil, all his minions, the Flesh, and all its lusts, thought their greatest foe was vanquished. The Lamb of God, slain from the foundation of the world (Revelation 13:8), was now slain in the flesh. His spirit commended to the hand of the Father. He was dead.
Joel Wood is the pastor of Trinity RPC in Burtonsville, MD, between DC and Baltimore. He holds M.Div. and D.Min. degrees from the Reformed Presbyterian Theological Seminary and is 1/4 of The Jerusalem Chamber podcast, a roundtable discussion about the doctrine, worship, and piety of the Westminster Confession of Faith.
The Story of Scripture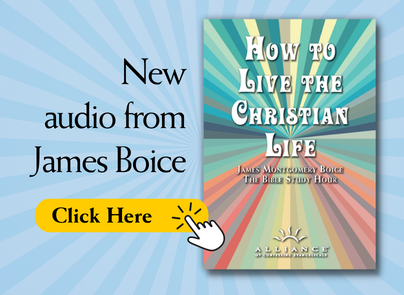 New audio from James Boice
Register for the Philadelphia Conference on Reformed Theology