Jeremiah, Christ & Forgiveness
The holidays are a wonderful time of year. However, for some they are a time of guilt. The season reminds them of things they said and did or did not say or do and those thoughts bring guilty. Strikingly, man is able to pull the galaxies close through a telescope and a microscope can enlarge a world underneath our nose but we are not able to cleanse the conscience. If that is your struggle perhaps this will be of help to you.
"Search the square!" is what God told his prophet Jeremiah. He was to "find a man." But why? So "that I may pardon her (i.e., God's people)," was God's reply.[1] This is not a surprising statement. God had told Isaiah that He himself "saw that there was no man, and wondered that there was no one to intercede" on behalf his people.[2] There was no one to help with their sin and guilt. Let's think about this statement in Jeremiah for a minute.
For what sort of man was Jeremiah to look? The answer is in the same verse as the injunction to search for a man. This man is to be "one who does justice and seeks truth." We have seen those terms before. Go back to Isaiah 59, which I just quoted, and there we read in verses 14 and 15 that "justice is turned back and…truth is lacking." Then in verse 16 we read that "there was no man." This type of man was hard to find. Why? It is because these two words describe God himself. Take a look at Deuteronomy 32:4. There we read a description of God, "[all] his ways are justice. A God of faithfulness…" The Hebrew is here translated as faithful in the ESV but it is the same word translated "truth" in Jeremiah 5:1 and Isaiah 59:14-15. The point is that Jeremiah was to look for a man like God.
Again, the purpose of finding a man like God himself was so that God might pardon His people. This is where the intercession of Isaiah 59 comes into play. Now, if you have read Isaiah 59 you know that when God doesn't find a man to intercede on behalf of His people He seeks to be that man. What is more, you can find images of the Suffering Servant in Isaiah where we are told that he "bore the sin of many, and makes intercession for the transgressors."[3] It is clear that the Suffering Servant is the Man through whom God intercedes on behalf of His people. And, of course, this Man is the God-man, Jesus the Christ.
When we turn to Jeremiah we notice similar things. First, the representative man is to be like God. He is to be just and truth (or faithful). Second, this representative man will intercede on behalf of the people of God that they might be pardoned. Now, bearing that in mind read this verse from the New Testament. "If we confess our sins, he is faithful and just to forgive us our sins and to cleanse us from all unrighteousness" (I John 1:9). Isn't that amazing? John surely had Jeremiah 5:1 in mind. The Lord Jesus is the representative Man who is faithful and just and through whom the people of God have pardon and the cleansing of the conscience.
This holiday season remember that God has given us a wonderful gift in the Person of His Son. In the Lord Jesus Christ, the God-man, we have the forgiveness of sins and the beautiful gift of a cleansed conscience. We are forgiven. Dear friends, it is only in Christ that the burden of sin will fall from our shoulders and the soul will feel its worth. That is a good reason to ring the silver bells and shout from the highest rooftop.
Jeffrey A Stivason (Ph.D. Westminster Theological Seminary) is pastor of Grace Reformed Presbyterian Church in Gibsonia, PA. He is also Professor of New Testament Studies at the Reformed Presbyterian Theological Seminary in Pittsburgh, PA. Jeff is also an online instructor for Westminster Theological Seminary, Philadelphia, PA. He is the author of From Inscrutability to Concursus (P&R), he has contributed to The Jonathan Edwards Encyclopedia (Eerdmans) and has published academic articles and book reviews in various journals. Jeff is the Senior Editor of Place for Truth (placefortruth.org) an online magazine for the Alliance of Confessing Evangelicals.
The Story of Scripture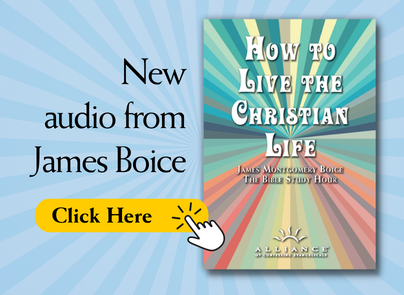 New audio from James Boice
Register for the Philadelphia Conference on Reformed Theology