Puritan Preaching: Cotton Mather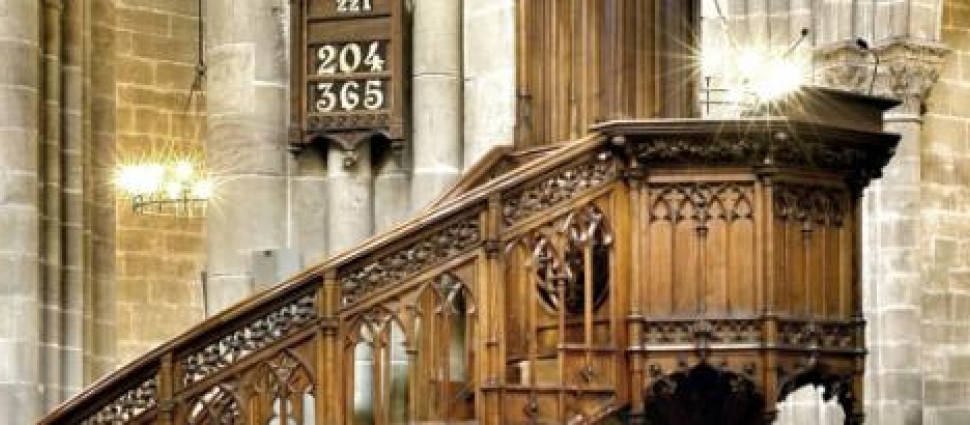 Alright, you could rightly say that Cotton Mather (1663-1728) does not meet the strict historical definition of a "Puritan" preacher (see Mark Jones' post here). Still, as a Massachusetts Bay Colony boy, son of Increase Mather, and grandson of John Cotton and Richard Mather, he stands firmly in the Puritan preaching tradition.
In this work, Mather viewed the preacher as a gold digger in the "Rich Mines" of Scripture in order to become "a Skilful Artist" for God, which he cannot do without regular and devotional Bible reading. So, Mather charged: "Read them Child; I say, Read them, with an Uncommon Assiduity." This sounds like my seminary president, E. Robert Jordan who told preachers in training over and over and over in a chapel sermon, "Men, Read your Bibles, Read your Bibles, Reeeeaad your Bibles." After 20 years, I can't get that piece of advice out of my head even if I do struggle to keep it in my heart. By the way, preachers, did I mention that, in order to be an effective preacher, Mather says that you need to read your Bibles?
Mather also noted that good exegesis demands a sanctified heart since, all the commentators in the world, "are poor Things to interpret the Bible, in Comparison of an Illiterate Christian" with "a sanctified Soul. . . Among all the Hermeneutic Instruments for the opening of the Scriptures, We say of This; There is none like it." Regarding commentaries in general (as he wrote in the 1720s), Mather viewed those of Matthew Henry as the best in terms of learning combined with "Experimental Piety."
Turning to the act of proclamation, Mather reminded the preacher, "you are now coming to feed the Flocks on the High Mountains of Israel" and must enter into the pulpit "with a Trembling Soul." I guess that means no "ice-breaker" jokes! Furthermore, he warned against anything but "Well-Studied Sermons" and called preachers who "use other Men's Sermons," nothing but "Pitiful Parsons." Cancel your sermon subscription service! He also supported preaching through books of the Bible but demanded liberty to providentially treat subjects "the Necessities of the People" call for. He exhorted preachers to plan ahead and avoid spending "almost as much Time in determining what Subject" to preach as to making "a Sermon upon it." He urged treating Christ as the sum and substance of all preaching with this  "Motto" upon all preaching, "CHRIST IS ALL." Likewise, if hearts are to be "Suitably touched", the preacher must prayerfully depend on the Lord for both himself and then his hearers to be affected. "To feel what you Speak," he affirms, "how wondrously will it qualify you to be a Lively Speaker!" Hmmm, all of this sounds pretty relevant for today, does it not?
Regarding delivery,  Mather argued that "a Well prepared Sermon should be a Well pronounced One." Some suggestions included: avoiding all that is indecent, speaking deliberately, not beginning too high, concluding with vigor, and using notes without "dull Reading." Concerning pulpit notes, let them "be little other than a Quiver, on which you may cast your Eye now and then, to see what Arrow is to next fetch'd . . .  and then, with your Eye as much as may be on them whom you speak to, Let it be shot away, with a Vivacity becoming One in Earnest, for to have the Truths well entertained" by the hearers. Obviously, we cannot dictate how much "paper" a preacher carries into the pulpit. However, we should note well that Mather knew the difference between being preaching "to" someone and preaching "at" them. It is a challenge to fully grasp this distinction and even more difficult to take action upon it.
"Finally," concludes Mather, appeals to the conscience should be powerfully placed by "the Hands of that flaming Preacher in the Bosom of the Hearer. In such Flames you may Do wondrously!"  May the Lord gift the church with such "on fire" preachers!