The Reverse Logic of the Gospel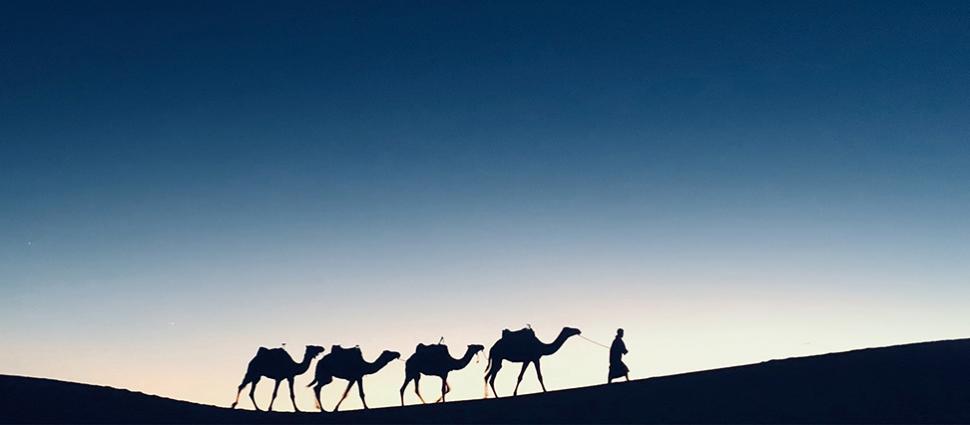 The gospel is, without question, the most wonderful message this world has ever heard or will ever hear. If we are Christians we love to hear it and [should] never tire of reflecting on it. But the big question we face is how to communicate or proclaim it. How do we get it across to those who need to hear it, because they are not yet saved? It is a bigger question than we might at first imagine. Not least because we are instinctively inclined to approach it from the perspective of our own flawed logic and not in the light of the Scriptures that contain, explain and proclaim it as their central message.
There are many different angles by which the church in particular and Christians in general have approached this challenge – some good and others not so good. On the not-so-good end of the spectrum is the temptation to begin with the so-called 'felt needs' of those outside the faith. But the problem with starting there – with fear, anxiety, depression, low self-esteem (the list is endless) – they end up with a 'gospel' that is shaped by those felt needs. So, 'Come to Jesus and your fears and anxieties will be banished, your depression will lift and you'll begin to see how much you matter' becomes 'the gospel'. But everyone who embraces such as message of hope will sooner or later discover this is no gospel at all.
A more thoughtful approach has been shaped by seeking to present the gospel in its relationship to God's Law. Fuelled in part by the stress on the language of 'repentance' that features prominently in the way the gospel is presented in the New Testament, but also by the Holy Spirit's role in convicting of sin and convincing of righteousness and coming judgment (Jn 16.8), it has often been expressed in terms of preaching law as the prelude to preaching the gospel.
Whereas there are many things to commend this approach (it has a significant pedigree in the theological traditions in which it has appeared throughout church history), it does raise certain questions over how it lines up with New Testament practice. Not least the fact that God uses different means to draw people to Christ for salvation and it does not always begin with an acute awareness of one's sin. Charles Spurgeon somewhere recounts a conversation with a woman who had come to faith and how he pressed her for what had actually led her believe. He was looking for some expression of her sense of sin and guilt, but she insisted it was the loveliness of Christ that drew her to him. And he had to acknowledge that, in her case, the latter had led to the former as she began to grow in the faith.
Perhaps the most striking thing about the examples of gospel presentation we find in Scripture is the sheer variety in approaches used by the gospellers themselves.
It is very striking in Jesus' varied approach in consecutive chapters of John's Gospel in how he deals with Nicodemus on the one hand and the woman at the well on the other. But we see it most notably in the ministry of Paul as the great missionary-theologian. His approach in the synagogue was different from that of the Agora and with Areopagus. But the whole spectrum of these different angles is captured either in his summary statement to the Corinthians, 'I resolved to know nothing while I was with you except Jesus Christ and him crucified' (1Co 2.2), or in Luke's summary of his preaching in Athens as being 'the good news of the resurrection' (Ac 17.18). Christ crucified and raised constituted the distilled essence of the gospel for the apostle and was to the forefront of its presentation.
In other words, his starting point was God and what he had done to secure salvation through his incarnate Son, not man and whatever sense of his need might be.
From the perspective of the world of our day this may seem somewhat counterintuitive, given the extent to which Christianity has been marginalised as an irrelevance, at least in western countries. But there is a real sense in which daring to get this message out, even in the face of rank indifference, becomes instrumental in the way God continues to use it in the lives of those who hear it. He does so in what in many ways is the reverse logic of the gospel. That is, by spelling out his 'cure' for the human condition, God actually opens our eyes to see just how serious it is and how incapable we are of curing it ourselves.
It is rather like going to see a physician who duly examines us and then, without actually saying what our ailment may be, tells us the remedy that is needed and reveals the breath-taking cost of the treatment required to restore us to health – running into hundreds of thousands of dollars. The mere thought of what the remedy entails immediately casts the condition into a very different light.
So with the gospel: the God-given remedy for the congenital condition of sin, its guilt and its consequences shared by our entire race, involved nothing less than the Eternal Son taking our nature, living and dying vicariously for his people, being buried, then rising, ascending and being enthroned in order to save. The dimensions of what God had to do in order to redeem are impossible to fully fathom. But, if that is what was needed to restore the lost to God, there is far more to human lostness than most humans have even begun to imagine.
It came home to me in a somewhat surprising way when I was the pastor of a church in London. One Easter, I was invited into a local elementary school to simply tell the Easter story. I was not allowed to evangelise per se, just tell the children the facts. However, I had barely ended my reprise of the events of Good Friday and Easter Sunday when one little boy – who had obviously never heard this before – immediately asked, 'Why did Jesus have to die?' Even with his limited knowledge, the fact Jesus was prepared to endure what he endured as the key element in the good news he came to bring, made this child wonder what kind of problem Jesus had come to fix that required such drastic measures.
Paul rightly says, 'I am not ashamed of the gospel because it is the power of God to salvation for everyone who believes' (Ro 1.16). He declared it boldly wherever he went, regardless of the fact it was dismissed as foolish and offensive by so many, because he knew its extraordinary content has God-given ability to expose the depths of sinful need in the hearts of its hearers. May we too dare to trust the gospel's inherent power more than our own powers of persuasion in evangelism.