Slaves of Christ
When the New Testament writers describe salvation under the figure of being "redeemed," they are borrowing a metaphor from the first-century practice of slavery. Christ purchased believers so that they can no longer claim to be their own (Acts 20:28; 1 Corinthians 6:20; 7:23; Revelation 5:9.). As slaves of Christ, we identify Jesus as our Lord and Master (Romans 6:22; 10:9; 2 Corinthians 4:5; 1 Peter 3:15).
A first-century slave belonged to his owner, lived as part of his master's household, was equipped and trained to be used for the master's purposes, and carried out the will of his lord alone. This is the way the New Testament exhorts believers to live and to think about themselves in the spiritual realm. In Romans 8:16, Paul teaches that everyone is a slave of the one whom we obey–either of God or of sin. This means that if we are not obeying God as His slaves, whatever we are doing, no matter how "good" that might be, it is sin, rebellion, and a misuse of the gift of righteousness and life and He has given us. Jesus taught that we can only serve one master, either money or God (Matthew 6:24; Luke16:13.). Peter tells us that since we were bought with such a costly price, we ought to live in obedience and fear the God who purchased us--the God and Father who will judge our every deed (1 Peter 1:17-19).
In the Scriptures, the most important example of a slave, however, is the Lord Jesus Christ Himself. In Philippians 2:5-8, the Apostle Paul charges believers to have the same "mind" as that of Christ Jesus who, even though He was equal with God, took the form of a bondservant and was obedient to God to the point of a shameful, torturous death on a cross. Given Christ's example of obedience, there is nothing in Scripture that God commands us to do or to relinquish that we could ever deem to be too much. We have our redeemed lives on this earth to learn to follow Him in obedience as we press on to glory.
For the redeemed, obedience is not an option. Christ's commandments are not suggestions. Our actions, attitudes and desires must be submitted to Christ's Lordship. We obey because we are His blood-bought servants. This perspective is foundational for obedience and our walk with Christ, but it is not the whole picture. We have to know who we are before we can know what to do or why we do it. That's why the first foundation of obedience is our identity as a bondservant of Christ. Remembering who you are in Christ is essential to growth in obedience. Do you realize that you are a slave of Christ?
We have been purchased by Christ and literally redeemed out of slavery to sin to live as part of His Divine family. However, just because we are slaves of Christ, it does not follow that we always desire to be obedient servants. While we ought to always obey Christ, sometimes it doesn't seem that important. Other times we might obey outwardly, but our hearts are far from obeying.
After we come ot a place of recognizing that we are bondservants of Jesus, the second essential thing we must give consideration to is our motivation–namely, why should we obey?
This stars with a deeper look at who we were before we were redeemed. We were dead in sin, completely separated from God, having no desire to please our Maker, and not even having the ability to please Him (Eph. 2:1-2; Rom. 8:6-8). We were ungrateful and fundamentally opposed to the God who graciously gave us life. We were profoundly depraved (Rom. 2:8; James 3:16).
But God bought us—while in this state of brokenness—with the precious blood of His Son, who received our punishment and cleansed our filth-ridden existences, making something that was hideous beautiful.6 This was not a cold or disconnected decision but one made out of a deep affection and love for us as image bearers (Acts 20:28; 1 Cor. 6:9-11; 1 Pet. 1:17-21). Although we will never fully comprehend this transformation, the more we learn about our sin in contrast with the holiness of God, the more we will understand just how much He loves us. When we grasp the boundlessness of His affection lavished upon us, the only response one can give is to love Him in return; our love will, in turn, grow with our knowledge. Jesus illustrates this in Luke 7:41-43 where He teaches that a man who has been forgiven a great debt will love more than the one who has been forgiven little. We have all had incalculable debts, and the more we come to know the depths of our depravity, the more we will love our Savior who forgives us.
But we were not just forgiven. We were clothed in His righteousness. We have been blessed with every spiritual blessing. We freely receive all things (Philippians 3:9; Ephesians 1:3; Romans 8:32.). We, who are slaves, have also become friends, adopted sons, co-heirs, and co-rulers with Christ (John 15:14; Galatians 4:6; Romans 8:17; 2 Timothy 2:12). This is compounded as we learn that He has chosen us from the beginning of time, continues to love us with an unbreakable love, and has given us the promises of glorification (Ephesians 1:4; Romans 8:38-39; Romans 8:17). God has showered us with His love, which draws out our love in return. We obey because we love. We love because we have been loved.
How do we show our love to God? According to 1 John 5:1-3, we demonstrate our love God by desiring to obey His commandments. This is a key aspect of our rebirth. Jesus said, "If you love me, you will keep my commandments" (John 14:15). Love is the willing surrender of our fleshly desires. Love is longing to follow His instructions, which teach us how to function the way we were created to live. The Apostle writes in 1 Corinthians 16:22 that if anyone does not love the Lord with an affectionate, relational love, he is accursed.
Only in obedience do we find deep and lasting satisfaction that brings us joy and fulfillment associated with our true selves. The obedient life gives God glory and brings Him delight (1 Samuel 15:22; Proverbs 11:20). We obey God in love because in doing so we will find satisfaction in living in such a way as to bring glory to God. This is the way in which He originally intended for humanity to live.
Being motivated by the love of God in Christ changes the way we view our enslavement to Christ. While we still have a sin nature, and can never trust ourselves, remembering our position as slaves of Christ is a grace that keeps us from living for ourselves. We need to remember, every day of our lives, that we are slaves to the only Master who is loving and good.
The Story of Scripture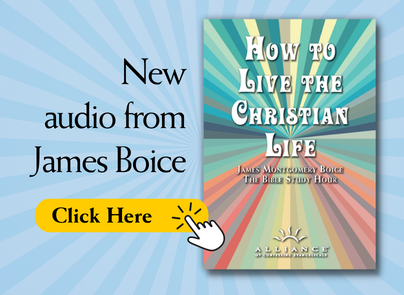 New audio from James Boice
Register for the Philadelphia Conference on Reformed Theology