Songs of Ascents: Psalm 123, Lift Up Your Eyes Unto the Lord.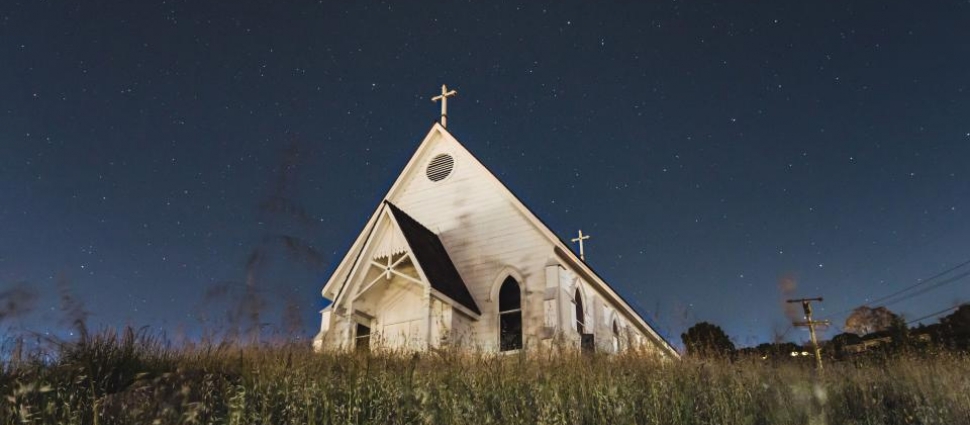 If you don't look up into the evening sky, you won't see a shooting star—nor the moon, nor a sunset, and you'll miss the comfort of God's transcendent presence and comforting beauty.
Psalm 123:1-2 emphasizes the need to keep lifting up our eyes unto the Lord:
"Unto thee lift I up mine eyes, O thou that dwellest in the heavens. Behold, as the eyes of servants look unto the hand of their masters, and as the eyes of a maiden unto the hand of her mistress; so our eyes wait upon the LORD our God, until that he have mercy upon us."
Lifting our eyes is a metaphor expressing daily, trusting dependence upon the Lord to behold His works and Him at work in our lives.
As the Lord instructed Abraham to "Lift up now thine eyes, and look from the place where thou art northward, and southward, and eastward, and westward" so that "all the land which thou seest, to thee will I give it, and to thy seed for ever" (Gen. 13:14-15). Look up to see God providing a future for you and your family.
Later, Abraham, "lift up his eyes and looked, and, lo, three men stood by him: and when he saw them, he ran to meet them from the tent door, and bowed himself toward the ground" (Gen. 18:2). Look up to see God moving in your midst.
Again, "Abraham lifted up his eyes, and looked, and behold behind him a ram caught in a thicket by his horns: and Abraham went and took the ram, and offered him up for a burnt offering in the stead of his son" (Gen. 22:13). Look up to the Lamb of God for salvation and assurance.
Similarly, Isaac "went out to meditate in the field at the eventide: and he lifted up his eyes, and saw, and, behold, the camels were coming. And Rebekah lifted up her eyes, and when she saw Isaac, she lighted off the camel" (Gen. 24:63-64). Look up to see God sending you a spouse.
Also, learn from "they of Bethshemesh [who] were reaping their wheat harvest in the valley: and they lifted up their eyes, and saw the ark, and rejoiced to see it" (1 Sam. 6:13). Look up to see Christ restoring the Church in reforming revival.
Isaiah 51:6 says, "Lift up your eyes to the heavens ... my salvation shall be for ever, and my righteousness shall not be abolished." Look up to see God working all for your good and ultimate perseverance.
Look up and watch for the Spirit rustling leaves around your church building. Jesus reminds you in John 4:35, " … behold, I say unto you, Lift up your eyes, and look on the fields; for they are white already to harvest."
Remember that Hebrews 12:2 tells you to always be " ... Looking unto Jesus the author and finisher of our faith," Who lifted His eyes to heaven before miraculously blessing the bread and fish to feed thousands, raising Lazarus from the dead, and praying to His Father for you and for the Father to glorify Him. While dying, Stephen looked up into heaven and saw the glory of God and Jesus standing by His throne ready to receive his soul.
Whatever has you looking down, lift up your eyes to see and be strengthened as Isaiah 40:26-31 promises:
"Lift up your eyes on high, and behold who hath created these things, that bringeth out their host by number: he calleth them all by names by the greatness of his might … Hast thou not known? hast thou not heard, that the everlasting God, the LORD, the Creator of the ends of the earth, fainteth not, neither is weary? … He giveth power to the faint; and to them that have no might he increaseth strength. Even the youths shall faint and be weary, and the young men shall utterly fall: But they that wait upon the LORD shall renew their strength; they shall mount up with wings as eagles; they shall run, and not be weary; and they shall walk, and not faint."
Do you still need help lifting up your eyes to the heavens? Then start a little lower with Psalm 121:1-2:
"I will lift up mine eyes unto the hills, from whence cometh my help. My help cometh from the LORD, which made heaven and earth."
Beloved, Lift Up Your Eyes Unto the Lord.[1]
Grant Van Leuven has been feeding the flock at the Puritan Reformed Presbyterian Church in San Diego, CA, since 2010. He and his wife, Fernanda, have six covenant children: Rachel, Olivia, Abraham, Isaac, Gabriel, and Gideon. He earned his M.Div. at the Reformed Presbyterian Theological Seminary in Pittsburgh, PA.