The Intentionally Welcoming Church
Small or large, every church has the important responsibility of receiving visitors. When someone visits your church for the first time, what is their experience? Welcoming visitors is rarely discussed, and very few churches have plans in place to make sure it happens, but it is a deficiency worthy of a remedy.
When Christians hear the word hospitality, we typically assume it to be related to our personal homes. Certainly, hospitality is important in every Christian household, but the entire church needs to consider whether or not she is fulfilling the Bible's command to be hospitable. There are various biblical commands regarding hospitality (Romans 12:13; Hebrews 13:1-2; 1 Peter 4:9), and it is one of the qualifications of an overseer (1 Timothy 3:2). To be hospitable is to welcome a person with open arms, with an open heart, and with an open door; it is an openness to care for and love others, putting their needs before our own to ensure, at the very least, that they feel welcome in our midst. Fulfilling the Bible's command to be hospitable in the local church is a responsibility of every Christian.
The motivation for Christians to be hospitable is to remember that we are the recipients of God's hospitality. We were once strangers, wanderers, orphans, and aliens, but by the grace of God, we were made alive together with Christ. Thus, Christian hospitality is a reflection of the gospel. The ultimate hospitality was Jesus Christ dying for sinners to make all who believe, not only visitors, but members of His household.
In larger churches, it may be difficult to recognize who first-time visitors are, while in smaller churches it's easy to assume someone else greeted the visitor, the pastor will talk to them, or we don't want to be overwhelming. However, saying, "I don't remember if we've met before…" is a far more welcoming greeting than ignoring a person altogether. I have yet to hear anyone tell me they were greeted by too many church members on a Sunday morning when they visited a new church. Large or small, every church can implement some practical steps to make sure visitors know they are welcome.
Leading the Way
One of the benefits of sequential expository preaching is the eventual encounter with passages on hospitality. Preaching pastors should take time to discuss hospitality, not only in terms of the individual home, but the entire church. What a great opportunity to encourage the body of Christ to consider how welcoming it is! After all, one of the reasons we come together in the body of Christ is to build up and encourage others (1 Corinthians 14:26). However, church officers should also model hospitality in the church by intentionally engaging in conversation with visitors as soon as possible. We get busy on Sunday mornings, no doubt, but the effort is noticed and appreciated by visitors. I have had many opportunities to hear from visitors about where they're from, where they live in our community, or where they work and immediately link them up with one of our members who has a similar story—what a great way to help build relationships with a minute or two of your time.
Giving Out Welcoming Material
Does your church have a designated space where you can point visitors to receive more information about the church? Not all visitors are going to want to go to a welcome center, but it's important to have resources for them to take so they know more about the church, and more importantly, about the Christian faith. Our church has information specific to our various ministry opportunities as well as free Bibles, tracts, and mini counseling booklets addressing a wide array of spiritual questions. Newcomers may be very uncomfortable sharing their lives with other people at first, but that doesn't mean they don't have questions. We've put together a welcome bag complete with an information card about the church, an evangelistic sermon CD, a Bible, and a tract that we like to give everyone who comes.
Designating Greeters
Some people are uniquely gifted in hospitality, so a church should identify those people and give them the opportunity to use their gifts to reach out to visitors. These should be the people handing out bulletins at the front door, helping people find seating if the meeting space is crowded, and pointing out important things like the welcome center, restrooms, and nursery. Church greeters should be gifted in small talk, friendly, and take opportunities to introduce visitors to others in the church.
Making Yourself Available
Pastors of any size church should be available. My typical practice is to say "I am down front after the worship service to meet you and talk or pray with you, if you'd like," while other church officers make sure to greet visitors on their way out. Pastors should not retreat to their study immediately after a worship service, nor should they immediately go home or dedicate all of their time to some urgent need in the body. Some things are unavoidable, but members of a church should have an understanding that visitors may want to talk to the pastor, so if at all possible, allow him a few minutes to be available to them.
Undoubtedly there are many other wonderful ideas for making sure visitors know they're welcome in a local church. If you're a pastor, make sure you take the time to talk to the leadership of your church about this important topic, and make sure you talk to the congregation about their role as well. What can you do better? If you are a church member without a leadership role, how can you be more hospitable to visitors? Are they welcome? Greet them, ask questions, and let them know you're happy they're there! A short, awkward conversation is far more endearing than a cold shoulder.
The Story of Scripture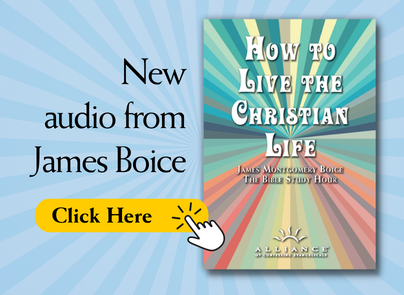 New audio from James Boice
Register for the Philadelphia Conference on Reformed Theology