Thomas Charles, Mary Jones, and the Birth of the Bible Society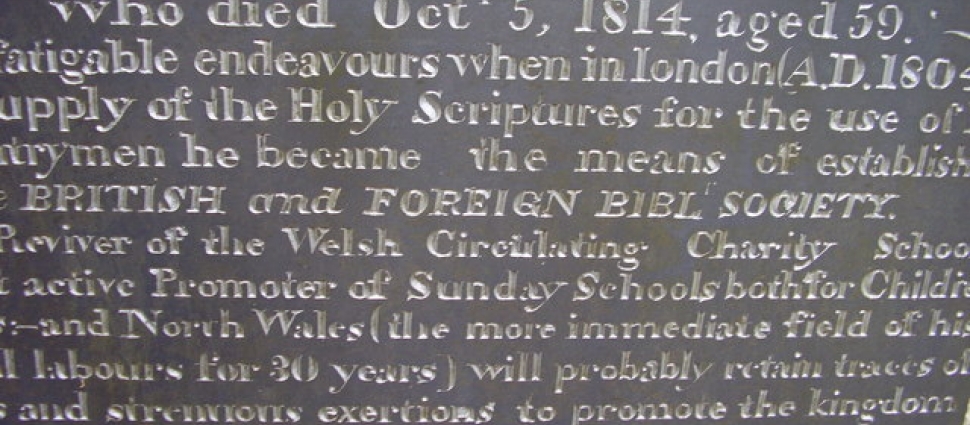 Thomas Charles, Mary Jones, and the Birth of the Bible Society
Many of us have heard the story of the sixteen-year-old girl who walked 25 miles to buy a Bible with the money she had saved while doing chores. That girl was Mary Jones, and her destination was a church at Bala, Wales, where a shipment of Welsh Bibles had just arrived. Mary's story has been repeated several times, sometimes embellished by additional details.
While walking miles was not entirely unusual in her day, Mary's burning desire to own a Bible and her persistence in achieving her goal was so impressive that it inspired the birth of the Bible Society both in Wales and in the rest of the world.
Mary's Youth and Schooling
Mary Jones was born in 1784 at Tyn-y-ddôl, Wales, to a couple of weavers: James and Mary (Molly), both early members of the Calvinistic Methodist church in the village of Abergynolwyn, two miles from their home. When James died, Molly raised young Mary on her own. The girl's interest in the Bible was evident from an early age.
At the age of ten, Mary attended a newly-founded "circulating school" (day-school) in Abergynolwyn. The school's founder was Thomas Charles, a forty-year-old preacher whose life had been turned around after hearing a sermon by the revivalist Daniel Rowland[1].
The concept of "circulating schools" was not completely new. First started by the Welsh minister Griffith Jones as a way to bring education to rural areas, it was continued by Madam Bridget Bevan. At her death in 1777, however, her will was disputed and the schools were halted until the funds could be properly released.
Even then, however, the schools were mostly in the south of Wales, and Charles brought them to the north. He also trained the necessary schoolmasters. After 1789, following the example of the philanthropist Robert Raikes, he endeavored to establish Sunday schools.
Meeting the Need
Born in 1755 in Longmoor, Carmarthenshire Wales, Charles had studied in Oxford and had become a curate in the Church of England, although his ministry was often criticized because of his Calvinistic Methodist views. He might have stayed in England all his life if he had not fallen in love with a businesswoman from Bala, Sally Jones, who, after a long courtship, agreed to marry him as long as they stayed in her hometown where she could continue her family business.
After marrying Sally on 20 August 1783, Thomas learned Welsh and preached in the region of Bala, wherever there was an opening (there too, his Methodist views excluded him from some parish churches).
The Welsh Bible published in 1799 by the Society for the Promotion of Christian Knowledge was particularly expensive because it included the Apocrypha, the Book of Common Prayer, and ecclesiastical tables. But Mary had saved enough money. When her local pastor, William Hugh, told her that the nearest copies of this Bible were with Thomas Charles at Bala, she prepared for the long walk.
She arrived at Bala in the evening, after Charles had retired for the night (as was his habit to do). But William Hugh had given Mary a plan B. She could seek hospitality at the home of a local preacher, David Edwards.
Edwards took Mary in and, the next day, accompanied her to Charles's house. There, Mary's hopes were initially shattered as Charles told her that all 10,000 copies had been either sold to or claimed by other buyers. Eventually, moved by Mary's tears and her story of how she managed to save the money, Charles gave her a copy that was meant for someone else.
She returned home rejoicing. But Charles couldn't shake this encounter from his mind. In 1802, at a meeting of the committee of the Religious Tract Society, he promoted the foundation of a Welsh Bible Society, using Mary's story as an example of its urgent need.
The committee was moved and decided to take the idea even further. In 1804, they established the British and Foreign Bible Society with the goal to "translate, print and distribute the Bible, without any notes or commentary, throughout the British Isles and the whole world." By then, the Bible had only been translated into 80 languages, but their work continued to expand as new Bible Societies were born.
Charles believed that the existing Welsh translation should be edited, but the committee refused to apply his edits because of his affiliation with Calvinistic Methodists. He then started to publish a few Welsh books on his own, including a catechism, Hyfforddwr ("The Instructor"), which went through many editions (and was later translated into English). He also produced a Christian magazine, Trysorfa Ysprydol ("Spiritual Treasury").
Later Years
Charles died in Bala on 5 October 1814. His wife, who had retired from business, died two weeks later. Besides his circulating schools and Sunday schools and his promotion of Bibles and Christian educational material in Welsh, Charles has left another legacy: the establishment of the Welsh Calvinistic Methodists as a separate denomination. This was not his initial intention, but it proved necessary when the nationally established church continued to find new ways to curtail the activities of Welsh Methodist pastors.
Mary, meanwhile, married a weaver (an elder in the local church), Thomas Lewis, and moved with him to the village of Bryn-crug. There, she kept busy raising her family, working as a weaver, dressmaker, and beekeeper to help make ends meet. While she kept the proceeds of the sale of honey for her family, she devoted the earnings from the sale of beeswax to the Bible Society, the Sunday school movement, and her denomination's missionary society. In fact, she believed that this commitment to God's work was the reason why the bees never stung her and their products were excellent and plentiful.
She continued to read the Bible and to commit many portions to heart. This habit proved particularly useful when she lost her eyesight, and had to rely on others reading the Scriptures to her. She died on 28 December 1866.
*Photo by William Howard.