What's in a Name?
Shakespeare's Juliet asks, "What is in a name?" She loved Romeo, regardless of his surname. Despite her wishes to the contrary or her desire to minimize the significance, Romeo was always going to be a Montague. In Scripture, names mean something. They matter. The names, or titles, God used to reveal himself communicated particular truths to his people. This is acutely evident in the Old Testament, but also present in the New. Joseph received specific instructions from the angel of the Lord to name the child born of the virgin, Jesus, for he shall save his people from there sins (Matthew 1:21). This announcement was made in order that it might be fulfilled what was previously prophesied by Isaiah, "Behold, a virgin shall conceive, and bear a son, and shall call his name Immanuel" (Isaiah 7:14; Matthew 1:23). Name Him Jesus because he will save his people from their sins. Call him Emmanuel because he is God with us.
As we have been celebrating advent, I have been meditating on the names used to describe the Person and Word of the Messiah. It is surprising how many different titles are used in the Old Testament to draw our attention to a particular function of the redeeming work of Jesus, the Son of God and Son of Man. Over the past few weeks in our worship services I have sought to offer a few brief reflections on the titles of Jesus, the Messiah. There are those titles given to the Savior that are familiar to all; then, there are those titles with which we are not as familiar.
One such title is found in Zechariah 10:4, where we read, "From him shall come the cornerstone, from him the tent-peg, from him the battle bow, from him every ruler – all of them together." This particular prophecy includes several titles about the saving work of Jesus, but the designation "tent-peg" presents one of the less popular titles of the coming Messiah, but an altogether encouraging one. Zechariah's ministry was to encourage and exhort the people of God to rebuild the temple and focus on the redemptive plan of God that would culminate in the coming Messiah.
Unfortunately, God's people were being tempted to follow bad leaders (Zechariah 10:2, shepherds and goats) and the false religion of idols. Bad leaders are destructive, and idolatry is empty and always leaves the idolater disappointed. Neither false shepherds nor idols are able to withstand the trust that is placed upon them. They fail. They always disappoint. Zechariah, however, announces that the LORD of hosts will visit his flock and from him would come hope (10:3). From the LORD of hosts will come the tent-peg, or nail. Isaiah uses this same word to describe the object on which something great, such as the honor of David's house, would hang. Many set their hopes on idols, but the idols always disappointed. God would send One upon whom His people could hang all their hopes. The Messiah would be able and is able to withstand all that is placed upon him.
Consider what has been placed upon Jesus. He has taken your guilt, sin, and sorrows upon himself. It was necessary that he be man in order to suffer and make intercession for you. And it was necessary that he be God in order he might not sink under the infinite wrath of God for you (see Westminster Larger Catechism, Questions 38 and 39). As the Nail, he did not buckle under the weight of your sin. He fully bore the punishment for you and fully satisfied God's wrath on your behalf. Not only is Jesus able to take your guilt and sin, he is also able to bear the weight of your burdens and cares as your Great High Priest. Be quick this Advent to remember that Jesus Christ is the Nail upon which you can place your trust. And you will never be disappointed.
Recommended Resources
Beginning at Moses by Michael P.V. Barrett
Zechariah (Reformed Expository Commentary) by Richard D. Phillips
Charles M. Barrett is Assistant Minister at Wayside Presbyterian Church (PCA) in Signal Mountain, Tennessee.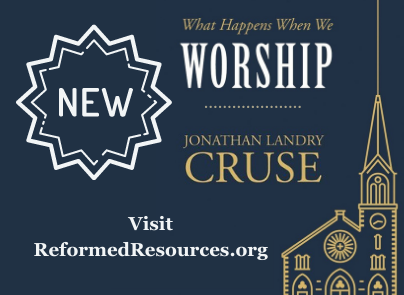 What Happens When We Worship