Who Was John Knox? (2)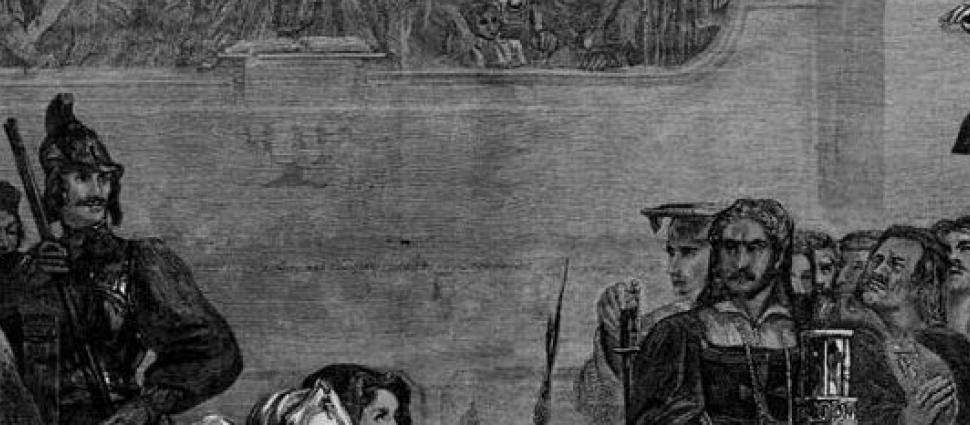 Last time
we looked at the life of John Knox (c. 1514-1572) up to his imprisonment on the French galley ships. Today we pick up the story as Knox is released.
Eventually Knox was released – no one is quite sure why – and he made his way to England in 1549, now aged 35. Edward VI is now King and the pace of reform is in full swing. Knox would spend the next 10 years of his life ministering to English congregations: five in England and five on the continent in exile. The story of Knox in England is fascinating. Knox's ability was recognised and he was soon sent to Berwick to bring the Reformation to the still stubbornly Roman Catholic North. Knox cut a swathe through the English church. He was soon debating Bishops on the danger of the Roman Mass, preaching before the King, being offered Bishoprics and influencing debates on the Book of Common Prayer and the Articles of the Church of England. The later much to the annoyance of the Archbishop Cranmer!
But Knox was never going to be an establishment man, he was too much of a prototypical Puritan to be a Bishop in the political environment of England. And when the Reformation in England suffered its disastrous reversal in the death of Edward and the ascension of Mary to the throne, Knox once more had to flee. Cranmer, Ridley, Latimer all stayed and were martyred…Knox fled.
However, Knox's five years in England impacted him greatly. He even fell in love with an English girl and on the eve of his fleeing England for the continent Knox stated: "I have thought it to be impossible…to have removed my affection from the realm of Scotland, that any realm or nation could have been equal dear to me. But I take to record in my conscience, that the troubles present (and appearing to be) in the realm of England are double more dolorous [marked by grief, sorrow or pain] unto my heart than ever were the troubles of Scotland."
Knox's next five years (age c. 40-45) were largely spent on the continent ministering to English refugees from the Marian persecution. First, in Frankfurt, and then later in Geneva. Frankfurt did not go well for Knox. He was called as Pastor of the English Church there – a church which was constituted on the basis of a more thoroughly Reformed worship than had been possible in England. But as more exiles flooded in who were committed to the Prayer Book rather than Reformed worship, Knox was ejected. Knox knew the pain of what it is to be a rejected Pastor.
Knox's time in Geneva was altogether happier. There he found what he called "the most perfect school of Christ that ever was in the earth since the days of the apostles. In other places I confess Christ to be truly preached; but manners and religion so sincerely reformed, I have not yet seen in any other place." Knox pastored and preached happily in the English congregation at Geneva. But he also committed his greatest blunder, and one of the most ill-timed acts of the whole Reformation. He wrote bluntly titled: "The First Blast of the Trumpet against the Monstrous Regiment [Rule] of Women." This work was directed against Mary (Bloody Mary) who had killed so many of the leading Protestants of England. However, much to the despair of Calvin, it was published just as Mary died and Elizabeth came the throne in England. Elizabeth was never able to trust the Reforming faction of the church again.
Knox and the Scottish Reformation
Still, however congenial Geneva was – Scotland was on Knox's heart. Knox had been on a clandestine preaching tour of Scotland in 1555-6 which ultimately ended in disappointment. (He married his first wife, and Englishwoman, Marjory on this trip after a long engagement.) There was an aborted attempt to bring him back again in 1557. But then in November 1558 the call came again, and in May 1559 Knox ended his five years on the continent and travelled back to Scotland. And the rest as they say is history.
The ground had been prepared and so Knox and the Lords of the Congregation led a swift and rapid Reformation. Just over a year after Knox returned, Scotland officially embraced the Protestant religion. A Reformed confession of faith was drawn up – the Scots Confession. A Reformed church order was drawn up – the First Book of Discipline. A Reformed liturgy based on Geneva's was agreed. And Knox himself was installed as minister of St Giles church in Edinburgh.
But the cause of the Reformation would always be precarious through the remaining 12 years of Knox's life. Mary, Queen of Scots, remained resolutely Catholic and returned to Scotland from France in 1560, the very year of the Reformation.  Knox stated "The very face of heaven the time of her arrival did manifestly speak what comfort was brought unto this country with her, to wit, sorrow, dolour [grief], darkness and all impiety."
Knox fought tireless for the Reformed faith until his death in 1572, and more than any other secured the Reformation in Scotland. On his last day on earth his wife read to him some of Calvin's sermons and passages of Scripture - John 17, where he had "cast my first anchor," and 1 Corinthians 15 where Knox heard the glorious words: "O death where is thy sting, O grave where is thy victory." And so the faithful servant of the master went to his eternal reward. Surely, as Thomas Carlyle said, "He is the one Scotchman to whom, of all others, his country and the world owe a debt". 
In unpacking his theology over future weeks, we will hopefully see something of that debt.
W. Stanford Reid, Trumpeter of God (New York: Charles Scribner's Sons, 1974). 
Jane Dawson, John Knox (New Haven: Yale University Press, 2015).
Richard Kyle and Dale Johnson, John Knox: An Introduction to His Life and Works (Eugene, OR: Wipf & Stock, 2009).
Suzanne McDonald, John Knox For Armchair Theologians (Louisville: Westminster John Knox, 2013).