Word, Sacrament, and Discipline: Sacraments, Grace on Display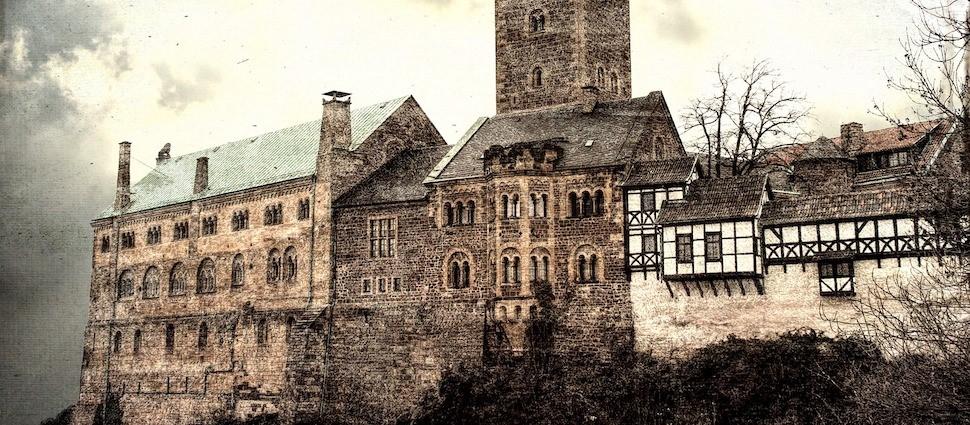 As a Presbyterian, I often find myself in attendance at the examination of our Seminary students. Our denominational seminary lies is within the borders of our presbytery, so we have a good number of students on an ongoing basis. Like most Reformed Seminaries and Presbyterian denominations, we have students that arrive on our doorstep with little knowledge or conviction of Reformed "Faith and Life." It is always fun and interesting to watch the students grow and develop in their knowledge, conviction, and application of those. One area that I've watched over the years is that of their understanding of the Second Commandment: that we should neither make images of God nor use man-made images in worship. At times, they can make very strong statements: "We are NEVER to use ANY images in worship!!" To which I would reply: "Really?"
Unfortunately, the Presbytery's time is short, and exams can move quickly, so I never get to have the fun I WANT to have at this point. "Are we really to NEVER use ANY images in worship? Is NOTHING to be pictured for us EVER as we worship the Triune God each Lord's Day?" While I doubt a student under care would prefer to be cornered in such a way (and I WOULD do it with a smile!), the answers to these questions is clear from Scripture: "We should use ONLY those images that God has commanded to be used; of which, there are three: water, bread, and wine, which picture for us the grace of God in the ministry of the Word and Spirit, sacrifice of Jesus Christ, and the feeding of our souls upon his body and blood." Yes. The Sacraments vividly display for us, signify for us, the benefits we have through Christ in the Covenant of Grace. We are washed by the pure water of the Word. The Holy Spirit flows down upon us in our regeneration. We are born again by the living Spirit. The body and blood of our Lord serve as nourishing realities for us in our march heaven, sustaining our souls, even as our bodies are sustained by the bread and wine. We truly are able to "taste and see that the Lord is good"!
So… is that it? Pictures. Is that all that these millenia-old practices of the Christian church amount to? While the picturing done for us in the Sacraments is plenty, and serves a good purpose for us in our yet-to-be-glorified state, simply put: No. The Sacraments hold more, much more, for those who are in Jesus Christ. They not only provide physical pictures for us, they also give God-ordained guarantees to us! Now, these are not guarantees like we might think of in our human experience: contracts guaranteeing goods and services which we have bought and paid for. Quite the contrary, the Sacraments are sealed unto all those who receive them by faith, as spiritual benefits bought and paid for by Christ, him alone. They are part of the Means of Grace ministry of the church that promises a benefit to worthy receivers[1] upon the working of the Spirit. It is HIS ministry to be had at the proper time.
The Sacraments, these holy signs and seals of the covenant of grace, have been given to us directly by God, instituted by him to represent to us Christ and his benefits. We are confirmed in what he has promised to us. And, in the end, it provides a boundary marker between the church and the world. Finally, it encourages our service to God in Christ. All of this given to us by and centered upon His Word.[2]
Be encouraged, dear friend, to not be negligent, then in how you use and experience the Sacraments. Is it "just another baptism" to you? Or a God-ordained appointment to remember your own Baptism, to learn better to live in the Spiritual realities given you by your baptism? Is it "Communion, again?!" Or a joyful time to consider the spiritual growth that has happened since the last time you were gathered to the Lord's Table? Even a pause to consider how better to wage war against that sin that has been distracting and damaging your soul?
The Lord has given us the Sacraments to bless us, to build us up in the most holy faith. Let us see His grace, clearly on display, for us, as we see, touch, taste, and experience these pictures and promises for us in Christ.
Joel Wood is the pastor of Trinity RPC in Burtonsville, MD, between DC and Baltimore. He holds M.Div. and D.Min. degrees from the Reformed Presbyterian Theological Seminary and is 1/4 of The Jerusalem Chamber podcast, a roundtable discussion about the doctrine, worship, and piety of the Westminster Confession of Faith.
---
[1] Westminster Confession of Faith, 27.3.
[2] Westminster Confession of Faith, 27.1. Rephrased.
The Story of Scripture
2023 Annual Report
Register for the Philadelphia Conference on Reformed Theology