7 Things to Remember Before You Quit a Pastorate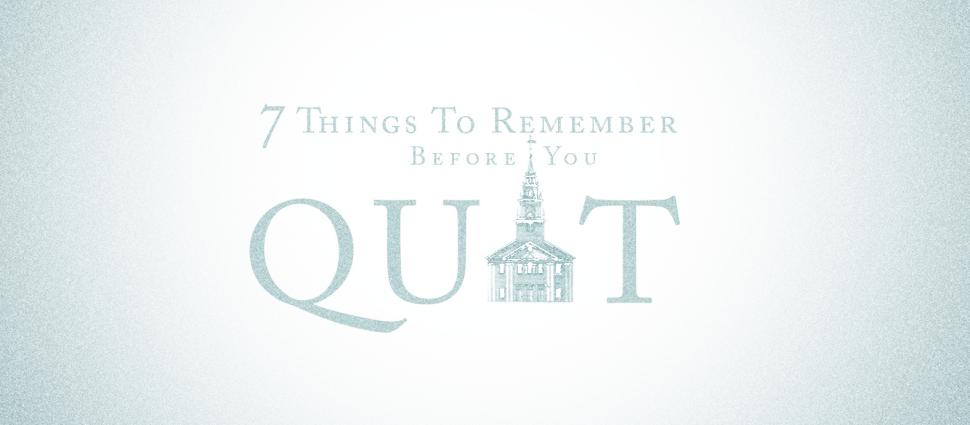 While it is difficult to determine the precise percentage, almost all studies have shown that the average pastor leaves a church within the first five years of ministry there. Though reasons for this vary from situation to situation, this much we can be sure of: Far too many pastors quit when they begin to come up against the difficulties and discouragements that come along with pastoral ministry. Here are seven things that every pastor must remember when tempted to quit a particular pastoral ministry:
1. It's Easy to Quit. In the early days of our church plant, there were many times that I wanted to quit. The challenges of church planting--while on one hand are the same kind of challenges that every pastor faces--tend to be exponentially heightened because of the lack of funds, elders, people with gifts and competition with more established churches. Whenever I felt as though I was coming to an end of myself and wanting to walk away, the Lord would bring that Proverb to mind, "If you faint in the day of adversity, your strength is small" (Proverbs 24:10). Anyone can walk away. Our society teaches us that whenever things get old, stale or hard, just get something new. Get a new car, a new job or a new marriage. We must resist this mindset when we face complacency, trials and needs in ministry.
2. The Grass Is Really Never Greener on the Other Side. We all say that we know that the grass is not greener on the other side, but, at times, we all subtly embrace the idea that we would be happier, more effective or more secure in another setting. It's true that we might be in such a horrendous situation that a call elsewhere would be a respite for our minds and hearts for a time. However, the reality is that the same challenges you face in your current pastorate will most likely surface in the next--in some form or fashion. Because human nature is what it is, there is an uncanny resemblance of challenges from church to church.
Ministers who are discontent because they pastor smaller congregations need to remember that a larger congregation often brings a greater number of pastoral needs and serious issues among congregants. I have a friend who pastors a church of around 1000 congregants. As we talked about the difficulties that come with a church that has grown quickly, he said, "Everyone wants the church to grow...until the church starts growing!" A growing church brings new challenges, trials and difficulties. The pressures a pastor may feel in a smaller church that is growing more slowly are magnified in a larger church growing more quickly.
Add to this the fact that in a larger, more established church, it will take 5 to 7 years for the elders to trust a younger minister. If a man has been at a church for 5 to 7 years, he has, more likely than not, gained the love and trust of many (some?) of the members. This is not something to be taken for granted. In all likeliness, if a younger minister wants to move from a smaller congregation to a larger one, he will experience the loss of trust and ministerial freedom that he has gained in the smaller congregation.
3. Never Assess Your Ministry on Monday. This ought to be self-explanatory. If you assess your ministry on Sunday evening or Monday morning, you will, do doubt, drive yourself to discouragement, doubt and depression. Spiritual warfare is generally highest on the Lord's Day and on the following day for pastors. Most ministers beat themselves up for not preaching a better sermon and for not loving the people the way that they should have. Then there are the uncomfortable conversations that sometimes occur on the Lord's Day--after all, this is one of the only times through the year that everyone is together. The opportunities for issues and strife are magnified. You are more aware of operational needs when they church is gathered and those needs are set in front of you. Then, you have to handle the burdens that others bring, the discontentments that they make you aware of and the tensions that sometimes occur among the congregants. Pastors begin to ask themselves why things have not progressed more than they have as they look out over the congregation on Sunday. Add to this, low attendance and you have a recipe for disaster. This is not indicative of every Lord's Day. In fact, I usually find that after one or two really horrible Sundays, I will have a few extremely encouraging ones. It is the roller coaster of ministry, and you have to brace yourself for a long ride. All of this is fairly normal for a pastor. We have to learn to assess our ministries over time. Ligon Duncan has wisely said, "Most men overestimate what they can do in 5 years and underestimate what they can do in 20 years." There is much wisdom in taking a long-haul approach.
4. Ministers Endure Hardship for the Sake of the Elect. This is one of the biggest biblical principles that we have to get deeply into our minds and hearts. The Apostle Paul said, "I endure everything for the sake of the elect, that they also may obtain the salvation that is in Christ Jesus with eternal glory." We are called to preach the Lord Jesus Christ, in all of His saving grace, power and glory, to the people God puts in front of us so that they may be saved. The trials and difficulties that accompany this work are incidental to it. We do what we do and endure what we endure for the final salvation of the elect. I imagine that we will discover, on the other side of this world, that--more often than not--it was the unregenerate bringing the greatest challenges to our ministries. When we remember that we endure the hardships (which compared to what Paul suffered are ridiculously minor for most of us) then we press through the challenges knowing that we are called by God to be conduits of His saving mercy and grace to the elect that are among the masses to whom we preach. In other words, we are to know God's purposes in this regard and tell ourselves, "It's all worth it for the salvation of God's people."
5. Stop Comparing Yourself and Your Ministry to Others. In 2 Corinthians 10:12, the Apostle Paul wrote, "We dare not class ourselves or compare ourselves with those who commend themselves. But they, measuring themselves by themselves, and comparing themselves among themselves, are not wise." Most of the discontentment and discouragement that ministers experience in ministry stems from a propensity to compare ourselves with others. This may have been the reason why the apostle charged Timothy with these words, "Fulfill your ministry" (2 Tim 4:5). Jesus taught the same thing when Peter compared himself with John. He turned to Peter and said, "If I will that he remain till I come, what is that to you? You follow Me" (John 21:22). We need to remind ourselves that the Lord has called us to a particular ministry to which he has not called another man. The Lord is interested in us learning to grow our relationship with Him and to set our hand to the plow of the work that He has given each of us uniquely to carry out.
6. The Lord is at Work in Your Life Through Difficult Circumstances. There is no difficulty that we are experiencing in ministry that the Lord has not ordained for our good and for our growth. He is the loving Father who chastens and matures His children. The minister needs much chastening and maturity so that he will be better able to shepherd God's people to glory. The Apostle Paul was always falling back on this truth. When he explained that he had been given a thorn in the flesh, a messenger of Satan to buffet him, Paul said that he took it to the Lord in prayer repeatedly. Paul knew well his own propensity to pride and therefore understood that the Lord meant to keep him humble. He concluded that he had been given this affliction "because of the abundance of revelation" that had been given to him...lest he be "exalted above measure." Jesus assured Paul that his purpose through this was that he would learn to rely on the grace and power of Christ (2 Cor. 12:7-10). Paul knew that in all his sufferings and trials and afflictions, the Lord was purposefully at work in his life. The Psalmist knew this principle as well. He said, "It is good for me that I have been afflicted, That I may learn Your statutes" (Ps. 119:71).
7. The Lord is Able to Change Your Circumstances Instantly. When ministers wallow in discontentment and discouragement, more than likely they have not gone to the Lord in prayer with the situation--trusting that He is able to bring good and change to whatever they are experiencing. It is far easier to pick up the phone and complain to a friend then it is to pour out our hearts to the Lord in prayer. The better we get to know our Bible, the more we find that God wants us to turn to Him in all of our trials and afflictions. He is almighty in power. He is the God who says, "Is anything too hard for the Lord." He is the one who repeatedly asked Israel, "Has the Lord's arm been shortened that it cannot save, or His ear heavy that it cannot hear." The Lord loves to bring life out of death and call those things that did not exist as though they did (Rom. 4:17). We must rely on the Lord our God in all of our troubles. Turning to a new pastorate may be a way of us trying to handle our own circumstance.
When is it time for a man to seek a new call to a new congregation of God's people? That is not an easy question to answer. There are many factors that need to be considered prayerfully and patiently while seeking much godly and wise counsel. When we find ourselves in the mire of the trenches or on the front line of the battlefield of pastoral ministry, quitting is usually never the answer. May the Lord give everyone of His servants the grace to remember the things above and trust that He is the all wise and sovereign God who has us right where He wants us.