David George – from Anxious Runaway to Zealous Pastor
David George – from Anxious Runaway to Zealous Pastor
Born on a cotton plantation in Virginia around 1742, David George grew accustomed to hard work and abuse. The plantation owner, a man called "Chapel," was particularly cruel. George had to witness the whipping of his sister Patty and the horrific torture of his brother Dick. He was also whipped several times. But the constant whipping of his mother Judith was the last straw, and he ran away. He was nineteen years old.
On the Run
After a long walk through the night, he met some men who helped him to find work on the Pee Dee River. He didn't stay there long. News was traveling that "Chapel" had offered a 30-guinea reward for his return, and his employer advised him to move further away.
George found new employment in Savannah, Georgia, where he stayed for two years, until he heard that he was again in danger, and went back on the run. This time, while he was traveling, he was captured by a Creek Indian chief named Blue Salt, who considered George his prize and made him work.
Oddly enough, in spite of the distance (800 miles from Chapel's plantation) Chapel's son found him and offered Blue Salt rum, linen and a gun in exchange for George. Once again, George managed to escape, and found temporary refuge with the Natchez Indians.
Permanent relief, however, came only when a Scottish trader named Gaulphin paid a ransom that satisfied both the Natchez king and Chapel's son. George worked for Gaulphin for four years at Silver Bluff, South Carolina. There, he met and married an enslaved woman named Phyllis, partly Creek, who was about 15 years younger than him.
Finding Rest
While his outward situation was improving, he began to have troubling thoughts about the state of his soul while he was living what he described as "a bad life." His parents had not raised him as a Christian and he had not given much thought to God until another African, named Cyrus, warned him that he "would not see God in glory."[1]
This abrupt and incomplete message from a man who, according to George, might not even have been a Christian, was the catalyst God used to change George's life. The fear of God's judgment bothered him so much that he could hardly perform his job. He had no Scriptures and, even if he had them, he didn't know how to read them. But he must have heard the gospel sometime before because he eventually realized he could not overcome his sinful nature on his own.
"Soon after I saw that I could not be saved by my own doings, but that it must be by Gods mercy that my sins had crucified Christ, and now the Lord took away my distress. I was sure that the Lord took it away, because I had such pleasure and joy in my soul, that no man could give me,"[2] he wrote.
In 1773, an old friend named Liele, who had gained his freedom and had become a Baptist preacher came to his area on a preaching tour. George went to hear his sermon. The text was Matthew 11:28: "Come unto me, all ye that labour and are heavy laden, and I will give you rest."
"When it was ended, I went to him and told him I was so, that I was weary and heavy laden and that the Grace of God had given me rest,"[3] George said.
Filling a Need
After Liele's visit, a local Baptist minister, known as Brother Palmer, came to Silver Bluff to follow up on those who had been moved by Liele's message, and to organize them into a small church. George, his wife, and eight others were baptized. Under Palmer's guidance, George became an elder in the church. He also learned to read and write from the children in the local school.
The Revolutionary War kept Brother Palmer away from Silver Bluff, so the congregation made George their pastor. The numbers of people in attendance grew to about thirty, forming what is considered the first Black Baptist church in America.
When the British arrived, Gaulphin, being a revolutionary, moved away, leaving his slaves behind. George and his wife were taken to prison for a month, until he convinced the British of his loyalty. Some records show that George enlisted in the British army, although he doesn't mention it in his writings.
As soon as they were released, George joined Liele in Yamacrow. Together, they preached to their congregations and to the large number of Black soldiers who, trusting in the British promise of freedom, had joined the loyalist army.
It was a difficult time, with the revolutionaries besieging Savannah while George became ill with smallpox. Thinking he was going to die, either by the illness or at the hand of the revolutionaries who were getting closer, he advised his wife to take their children, Jesse, David and Marry, to safety. In the end, he survived, and rejoined his family. For a while, he worked as a butcher while preaching to the Blacks in the British army.
Freedom and Persecution
In 1782, the British kept their promise of granting Black soldiers a way to find freedom by moving them to their colony of Nova Scotia, Canada. Around 500 people left in November, including George. His family joined him a month after his arrival.
The trip was dangerous, with a few people falling ill. From Halifax, he moved to Shelburne, where about 1500 Black loyalists had settled. There, he started to plant a church by singing hymns every night. After he had gathered a few people, he held his first Lord's Day service "in a valley between two hills."[4]
"A great number of white and black people came," he said, "and I was so overjoyed with having an opportunity once more to preach the Word of God, that after I had given out the hymn, I could not speak for tears."[5]
Finding that many people in this area had never heard the gospel, he held a meeting every evening. Soon, the authorities received complaints from some white residents who were displeased by this new influx of Blacks.
This animosity stemmed from a general inequality that seemed impossible to remedy. Generally, the British had given black loyalists smaller plots of land than white loyalists. This lack of land forced the Blacks to seek work, settling for lower pay than what the Whites had received. For this reason, they were welcome by the rich white residents and resented by the poor.
When the authorities asked George to preach "in the woods" outside town, he complied until a Shelburne resident who had met him in Savannah allowed him to build a house on his property.
George found another supporter in Governor John Parr from Halifax, who gave him and his family six months' provisions and a parcel of land. By June 1783, George had a chapel built, where he preached for a congregation of fifty Blacks and some Whites, and had enough property to house some families from church.
But the attacks continued. In the spring of 1784, when George baptized the child of a white couple, the relatives of the child's mother disrupted the service, requiring the intervention of the authorities, who finally ruled the child's parents were free to baptize their child in any church they wished.
Still frustrated by the lack of work, on the night of July 25, about fifty unemployed white soldiers ransacked and destroyed the homes on George's property in what became known as the Shelburne Riots. This caused many Black families to flee to nearby Birchtown. George stayed in Shelburne as long as he could, in spite of threats. When a group of men beat him with sticks and left him in a swamp, he decided to follow the others in Birchtown, where he continued to preach.
Eventually, some people came after the Black community in Birchtown too – particularly Anglicans and Methodists, who were afraid George would take people away from their churches.
From Canada to Africa
In spite of this, George continued to preach both in the area and further away, organizing congregations in Fredericktown, Saint John, Preston, Horton Township, and Liverpool. His sermons were so moving to himself and others that he often had to interrupt them to wipe the tears off his face.
In 1792, Lieutenant John Clarkson, an active abolitionist and a founder of Freetown, Sierra Leone, convinced George and many other Blacks to move there. George accepted, and moved there with his wife and four children, founding the first Baptist church in Freetown.
Initially, the newcomers to Freetown encountered the same problems they had met in Nova Scotia, but George was instrumental in keeping the peace. He was elected a tythingman, or local leader, under Clarkson, who had become governor.
In Freetown, George wrote his An Account of Life of Mr. David George, which became one of the most important slave narratives of the time. He died there in 1810. He was succeeded by Hector Peters, who had been one of the elders in the church in Canada.
Today, George is remembered as a pioneer of Black churches in North America at a time when Blacks were often ostracized by white congregations. He was also instrumental in founding a Baptist church in Freetown and in keeping the peace during frequent conflicts.
His vision, in North America or Africa, stayed the same: "May the wilderness every where soon become as a fruitful field – may men be blessed in our Jesus, and all the ends of the earth speedily call Him blessed."[6]
---
The Story of Scripture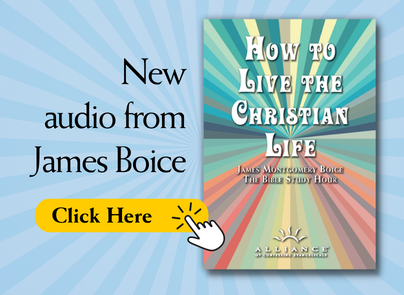 New audio from James Boice
Register for the Philadelphia Conference on Reformed Theology