The Familiar Case of Benjamin Dutton
The Familiar Case of Benjamin Dutton
Benjamin Dutton is not a recognizable name in Church history. He is usually remembered in passing as the second husband of Anne Dutton, the 18th-century writer who confuted Wesley's strive for earthly perfection and won the praises of George Whitefield and other theologians of her time.
Benjamin caught my attention because of his honest account of his struggle with alcoholism, a familiar struggle, albeit frequently hushed, in the history of the church (we could go as far back as to the fourth century, with the youthful addiction of Monica, mother of Augustine of Hippo).
Benjamin described his experience in a book with a long title typical of his age: The Superaboundings of the Exceeding Riches of God's Free-grace, Towards the Chief of the Chief of Sinners Shewn Forth in the Lord's Gracious Dealings with ... Benjamin Dutton.
In the preface, he admits that he had been tempted to keep the whole matter secret. "Satan has suggested to my Mind that I should be very foolish to lay my Sin open to all the world."
In the end, he became convinced that writing his experience would contribute to God's glory and to the benefit of others. "For every Thing will be brought into Judgment, whether it be good or evil. And what matters if it be laid open a little beforehand? What matters if I, a poor vile Worm, am debased, so that Christ and Free Grace are exalted; and some poor, dejected, sorrowful Souls comforted, strengthened, and brought to rely upon the Lord Jesus hereby?"[1]
Dutton's Early Life
Benjamin Dutton was born on February 16, 1691 in Steppingley, a small village in Bedfordshire. His father Matthew, a pastor, had gone through a rough time in his youth, which included heavy drinking – so much that he was convinced "that he would perish in this course."
"But God," Benjamin wrote, "whose thoughts are not as our thoughts, nor his ways our ways, but are as high above them as the heavens are upon the earth, having loved him with his great love, even when dead in sins, prevented him by his grace and plucked him as a brand out of the burning."[2]
Eventually, Benjamin's father left his inordinate life, became a pastor, married, and had six children. Benjamin was the youngest.
For some time, Benjamin wavered between a love for mischief in company of no-good friends and times of deep conviction. His description makes it sound as if this lasted for years, but he was only 14 when he was sent to Newbury in Berkshire to be an apprentice for a clothier. There, he attended the same Presbyterian church as his host family.
Benjamin was not impressed. "They generally read their sermons," he said, "which chiefly treated of morality, and Christ and his fullness was but little insisted by them."[3] When another congregant suggested to the pastor that he was not preaching Christ, the pastor answered, "Is it not to preach Christ, to preach his laws?"[4]
Clearly, these moralistic sermons had little effect on Benjamin, who focused instead on his first monetary earnings. His ambition was to become rich and well dressed. He saw himself aging with a gun and a dog, living at ease. He used his income to buy fine clothes, a wig, a watch, and a jacket he left unbuttoned down to the waist in "the manner of beauish persons." "I idolized myself and my imagined beauty,"[5] he said. Once again, he gave in to heavy drinking.
One day, however, for apparently no reason, he snapped out of this and turned his life around. He credited the Lord for this intervention. "When there was none to help, none to deliver, the Lord's Arm alone brought salvation."[6]
A Well Hammered Trumpet
A changed life included a change of plans. He left his work as clothier and studied to become a pastor. His studies took him to Northampton, where he met the woman who was to become his wife, Anne. It was love at first sight. Anne was reportedly a beautiful woman, but Benjamin was rather "taken with her Christian discourse." A thought passed through his mind "that she would make a brave minister's wife."[7]
And she did. The two married in 1728, and he was ordained soon after, beginning a few years of itinerant ministry that required much bravery on her side. Benjamin's absence and their frequent moves were difficult for her, compounded by a period of poor health and especially by the lack of a good minister to feed her spiritually while Benjamin was gone. She never mentioned her husband's addiction to alcohol (which continued to raise its ugly head), although it might have weighed heavily on her mind.
In his autobiographical work, Benjamin devoted much time to this struggle. When total abstinence seemed impossible to achieve, he tried to limit the quantity of his drinks, or to dilute his beer. He finally came to the realization that it was all or nothing. He had to forsake drinking completely.
He prayed and asked others to pray for him, even posting a prayer request "at several meetings in London." Many responded with heartfelt prayers, while others exhibited what he described as a "merciless, cruel, hard-hearted, unforgiving spirit, condemning and trampling me as a poor helpless worm under their feet."[8]
One of his most faithful supporters during this time was Rev. Walter Overflow, Independent Minister at Oundle, who encouraged Benjamin and corrected those who criticized him. "We have put the matter too far," said Overflow. "We think to appear against the Sin and we appear against the Person. We ought to deal with a Soul that has fallen as Jesus Christ deals with it." If Christ gave the person repentance, then Christians ought to "put on bowels and compassion and to manifest our love and forgiveness."[9]
Overflow comforted Dutton by reminding him that "the Trumpets of old were to be made of beaten work, to be well hammered, that they might sound the better, or sound well."[10]
Another compassionate friend was Rev. Benjamin Winckles, pastor of the church at Armsby, near Wellingborough, where the Duttons lived for about three years.
Anne enjoyed her time in Wellingborough, where she could sit under the excellent preaching of Rev. William Grant, while her husband worked closely with Rev. Winckles in bringing the gospel to the area between their two towns of residence.
In 1731, when Benjamin Dutton received a call to become the pastor of a congregation in Great Gransden, in Huntingtonshire, Winckles and seven other men signed a letter stating that God had granted Dutton "Repentance and Remission of Sins … and that he has been enabled to walk for a considerable Time as becometh the Gospel."[11]
In his book, Dutton lists the Scriptures that had been particularly helpful to him in his struggle and gives God the credit for turning him from alcohol, so much that he acquired an "aversion to it."[12]
The key to his recovery, he said, was his growing knowledge of God in Christ, which filled Dutton "with the Discoveries of his Love, with Peace of Conscience and Joy in the Holy Ghost: So that I stood not in need of Wine, or strong Drink."[13]
Pastor and Sinner
Dutton continued his honest account by mentioning one relapse, when he tried to alleviate his rheumatic pain it by drinking a little wine. He soon realized that even an occasional taste of wine rekindled his inclination to drink, and renewed his efforts to keep away from all alcoholic beverages.
Benjamin's struggle with sin made him gave him a particular empathy for other sinners. In his book, he quoted Ralph Erskine's poem, "The Work and Contention of Heaven," to show that every Christian has equal reason to praise God's grace.
Those who have not fallen publicly as he had done, "to God's dishonor and their souls' wounding," can count themselves thrice happy, while keeping their guards up. "Remember you are not yet out of danger," he said.
Those, like himself, who had fallen and had been restored could also consider themselves blessed, and obey God in gratitude for his mercy.
But he also had a message of hope for those who had fallen and were still on the ground. "Say not, 'It will always be thus.' I know Satan will persuade you that it will. But remember, he was a liar from the beginning. Watch, pray, strive, and fight still. …As the God of all grace has forgiven and restored me, be encouraged, O ye dear Children of God who groan under the power of sin, to hope and believe that deliverance will come."[14]
Under Benjamin's preaching, the church in Great Gransden gained so many new members that they had to build a new meeting house. He also worked to open a free school, to ensure that everyone could learn to read.
In their writings, Benjamin and Anne referred to each other as yokefellows in the Lord. Benjamin heartily supported Anne's talent in writing. When he visited the American colonies in 1743 for a preaching and fund-raising tour for his school, he introduced and circulated her works as sources of Scriptural encouragement to others.
His life ended tragically in 1747, when the ship that was meant to take him back to England sank just before reaching its coasts. Today, like many devoted pastors of the past, he is mostly forgotten. In fact, he might have been completely forgotten if his wife had not gone on to become the most prolific woman writer and one of the most influential Christian authors of 18th-century England. And yet, many people have certainly been encouraged by his compassionate pastoral care, by his honest confession of his struggle against a stubborn addiction, and especially by his diligent ministration of the gospel, both in his preaching and his writing.
---
The Story of Scripture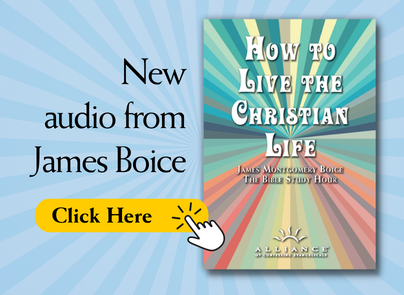 New audio from James Boice
Register for the Philadelphia Conference on Reformed Theology