The Heart of Hospitality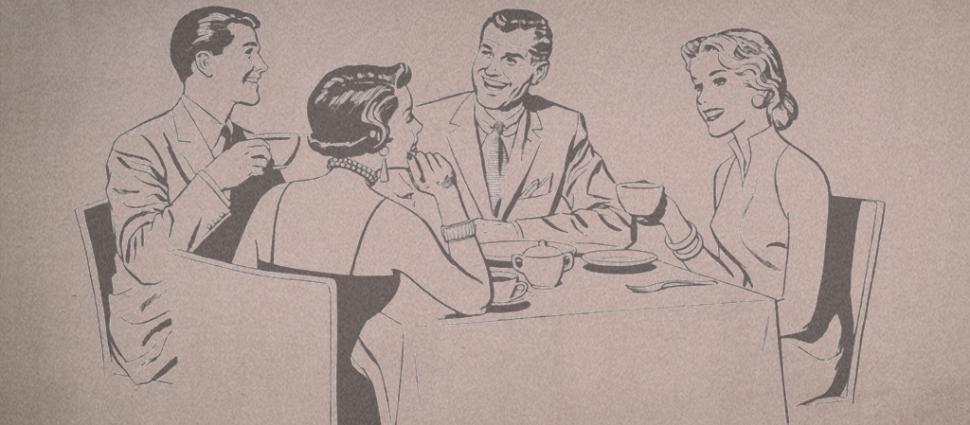 A friend recently thanked me for the hospitality I had extended to him and his family over the years. Feeling uncomfortable with the compliment, I responded, "Actually, it's my husband you need to thank. I learned it from him." I think my comment surprised him. Perhaps because it seemed as though I've always had a heart for hospitality.
The truth is, for a long time hospitality was hard for me. I often thought that hospitality was something you only did when you were prepared and had all your ducks in a row. I thought that my home needed to be a certain size and my cooking skills up to a certain level. And just like Martha in Luke 10, I often stressed over the details of hospitality. I focused on whether there were enough chairs for everyone to sit on, each person's unique dietary needs were met, and that the living room was spotless and the pillows lined up neatly on couch.
What I've learned from watching my husband seek out the lonely and invite them into our home is that biblical hospitality has nothing to do with those things. Rather, the heart of hospitality is about sharing our lives for the sake of others, just as Christ did for us.
Biblical Hospitality
There's a difference between hospitality we see on the cover of magazines or on interior design shows on television and the hospitality described in Scripture. Biblical hospitality isn't about details but about the gospel. It isn't just for those who can bake, but for all of us. It's not about receiving compliments but about giving to others. It's about much more than a meal or a comfortable place to lay one's head. The heart of hospitality is about sharing the greatest treasure we have, Jesus Christ.
Four things to remember about hospitality:
1. It's for all of us: It's true, many women enjoy inviting others into their home. Countless magazines are directed to women, giving them advice on hosting dinner parties and holiday gatherings. But Biblical hospitality is a call for everyone, not just women. Peter's instructions for hospitality were to all believers, "Show hospitality to one another without grumbling" (1 Peter 4:9). Paul also had similar instructions, "Contribute to the needs of the saints and seek to show hospitality" (Romans 12:13). The writer to the Hebrews exhorted, "Do not neglect to show hospitality to strangers, for thereby some have entertained angels unawares" (Hebrews 13:2). Hospitality was expected, not only of widows (1 Timothy 5:10), but also listed as a requirement for elder (Titus 1:8 and 1 Timothy 3:2).
2. Hospitality is another picture of the gospel: The meals we make, the spaces we share, the invitations we give, are all a picture of the gospel. Our Savior left his palatial home to live a life of poverty in this fallen world. Having no place to lay his head, he became a servant, giving his life for our sakes (Philippians 2:5-11). He sacrificed his own blood so that we could enjoy eternity with him in his home. This is the ultimate picture of hospitality. When we open our homes to weary travelers, hungry strangers, and hurting souls, we serve them in light of what Christ has done for us. We share our homes, our food, and our lives with others because Christ has shared with us the gift of eternal life. And in so doing, we point all our hearts to the One who is even now preparing a home for us in eternity.
3. Hospitality involves sacrifice: Unlike the images we see online or in magazines, Biblical hospitality isn't always pretty. It's imperfect and messy. When we invite strangers into our home and share our food and life with them, it gets complicated. Their problems become our problems. When we share with fellow believers a meal or a place to stay, it won't necessarily be reciprocated. Engaging in the stories and lives of others means that we have to give of ourselves, not just sharing our food, but sharing time, encouragement, understanding, grace, and patience. Our Lord set the standard in John 13:14-17, "If I then, your Lord and Teacher, have washed your feet, you also ought to wash one another's feet. For I have given you an example, that you also should do just as I have done to you. Truly, truly, I say to you, a servant is not greater than his master, nor is a messenger greater than the one who sent him. If you know these things, blessed are you if you do them."
4. Hospitality isn't about breaking bread, but about the Bread of Life: In Biblical hospitality, the bread on the table is merely a means to an end, to point others to the Bread of Life. When we invite the lost, the lonely, the hurting, and the stranger into our home, we are showing them Jesus. When we love, serve, and encourage a fellow believer in our home, we are showing them Jesus. All acts of hospitality ultimately serve to invite people to feast on the only food that satisfies, the Bread of Life (John 6:35).
Just last week my husband suggested inviting a few families over for dinner. I looked around at the stacks of boxes scattered around the house we had just moved into and said, "Sure!" I couldn't find the box with my tablecloths so we made do with whatever I could find. It was imperfect and messy meal and definitely not Pinterest worthy. But most importantly, we opened our home to others because of the One who has opened his heavenly home to us.
Christina Fox is a graduate of Covenant College and received her Master's in Counseling from Palm Beach Atlantic University. She serves on the national women's ministry team of the PCA and is the editor of enCourage. Christina is a conference and retreat speaker and writes for a number of Christian ministries including TGC and Ligonier. She is the author of A Heart Set Free: A Journey to Hope through the Psalms of Lament and Closer Than a Sister: How Union with Christ Helps Friendships to Flourish. You can find her at www.christinafox.com, @christinarfox and on Facebook at www.Facebook.com/ChristinaFoxAuthor.