Robert Jermain Thomas – First Protestant Martyr in Korea
Robert Jermain Thomas – First Protestant Martyr in Korea
Today, when Christians from Korea travel to Great Britain, they often make a point of visiting Hanover, south Wales, where Robert Jermain Thomas spent his childhood. Some even venture out to the small town of Rhayader, where he was born in 1839. That's because Thomas is still remembered in Korea as the man who died in order to introduce Bibles into the country.
An Early Passion
Son of a pastor, Robert was moved from a young age by a desire to be a missionary. With that vision in mind, he began studying at New College, London University. Impatient with the process, he left his studies mid-way and spent about six months working with a physician, under the conviction that missionaries needed some medical knowledge. He also did some preaching at his father's chapel, where he delivered his first sermon at the age of 17.
It was only through the intervention of friends that this impulsive young man was taken back into the school. Robert quickly caught up on his studies and graduated at the same time as the other students in his class, in 1863.
Soon after his graduation and ordination as a minister, he fell in love with Caroline Godfrey, who shared his vision for the mission field. After they married, he received a commission by the London Missionary Society (LMS) to be a missionary in Shanghai.
The couple arrived in Shanghai in December of 1863. Unimpressed with the unsanitary conditions of the city, Robert he went to Hankow to look for better accommodations where Caroline, who was pregnant, could safely deliver and raise their child. While he was gone, however, Caroline, who was staying with other missionary families, miscarried and died.
Crushed by the news of his wife's death, Robert wrote a resignation letter to LMS. "I cannot write any more, my sorrow bursts forth afresh as I go over the details," he concluded. "I trust to give myself more completely than ever to the noble work on which I have just entered, but at present I feel weighed down by deep grief. I am sure I have your sympathy and prayers that no trial however grievous should separate me from this glorious cause, but rather thank God for her peaceful, painless end, and say, 'The Lord gave, the Lord hath taken away, blessed be the name of the Lord.'"[1]
His decision was compounded by a disappointment with LMS, which he considered too cautious in sharing the gospel and in venturing out of Shanghai. He moved on to Chefoo, near the borders of Korea, where his linguistic talents allowed him to find a job as a custom officer. There, he connected with other missionaries, particularly Joseph Edkins of LMS and Alexander Williamson of the National Bible Society.
A Door Into Korea
One day, Williamson introduced Thomas to two Catholic Koreans who had a basic knowledge of Christ but had no Bibles. He heard of the existence, in Korea, of an underground Roman Catholic Church, under the supervision of eleven priests. Their influence was very limited, in spite of the great interest among the people.
At that time, Korea was known as "the Hermit Kingdom," as the government, fearful of foreign influence, forbade contacts with westerners. Monuments everywhere warned the people to shun foreigners. Distribution of foreign literature, including Bibles, was a crime punishable with death for both the distributor and the recipients.
Far from deterring Thomas, this challenged rekindled his missionary spirit. With the help of the Scottish Bible Society, he obtained a large number of Chinese Bibles to be distributed in Korea.
Thomas's position as custom officer and his talent in learning languages allowed him to enter Korea and spend a couple of months there in 1865, learning the language. He found Koreans to be initially suspicious of foreigners, but a few people accepted to take a Bible. "As these books are taken at the risk of decapitation, or at least fines and imprisonment," he wrote in a letter, "it is quite fair to conclude that the possessors wish to read them."[2]
He planned a second trip in 1866, in spite of the fact that the Korean government had started a fierce persecution of Roman Catholics, eventually killing at least 8000 of them. Thomas, who was willing to catch any opportunity to go back to Korea, sailed on an American trading ship.
Leaving a Seed
They stopped briefly at an island along the coast of Korea, where Thomas preached and distributed Bibles. He kept preaching at every further stop, as the ship made its way to the Taedong River.
The locals who had boarded the ship to help it navigate warned the captain that the ship was not welcome in the area, and that the waters were getting too shallow. In spite of this, the captain kept going until the ship arrived near Pyongyang. There, a group of hostile Koreans met the ship with the intent of stopping it. Faced with impelling danger, the captain tried to go back to the ocean, but the waters had receded too much to allow it. They were stuck.
Although the ship was much larger and fortified than any of the local boats, the Koreans filled their boats with rubble, set it on fire, and floated them next to the American ship. Being full of gunpowder, the ship exploded.
There are many stories of how Thomas died. Some say he died during the explosion, while others say he drowned. According to eyewitnesses, however, he went to shore with a white flag and an armful of Bibles, and was killed by a soldier. Some accounts tell of a man who was holding a red book, begging the soldiers to take it, just before his execution. Most people believe this man was Thomas, who is considered the first Protestant martyr in Korea.
After the attack, several people grabbed the Bibles and took them to their homes. A few days later, an edict demanded the destruction of any copy of the Bible. Most people obeyed, except one government official named Pak Yong-Sik, who decided to use the pages to wallpaper his house. Years later, the house was bought by Choi Chi Ryang, who was eleven at the time of Thomas's death and remembered the event. According to most accounts, the words on those walls were read by many visitors who became interested in knowing more.
Thomas's story has been passed on for generations of Korean Christians, who hold him in great esteem as a man who gave his life to bring the Bible to Korea. In spite of the government's restrictions, Christianity continued to spread throughout the country. In fact, only fifteen years after his death, Pyongyang was already holding a strong Christian community, with around 100 churches. In 1907, it became the site of a major revival. Today, the Robert Jermain Thomas Memorial Church stands near the spot where the missionary died.
---
[1] Stella Price, Chosen for Choson: Robert Jermain Thomas, Emmaus Road Ministries, 2010, loc. 394.
[2] "The Visit of the Rev. R. J. Thomas to Corea" in The Scottish Congregational Magazine, New series, Vol. XVI, A. Fullarton & co., 1866, 200.
The Story of Scripture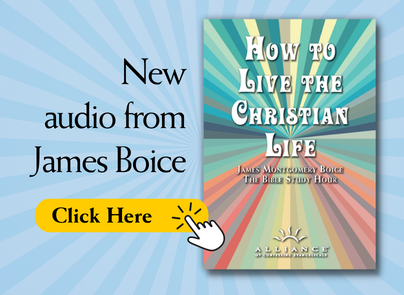 New audio from James Boice
Register for the Philadelphia Conference on Reformed Theology