The Fruit of the Spirit: An Introduction
What Metaphor?
The fruit of the Spirit in Galatians five brings to mind images of an orchard. It's a serene and beautiful scene. However, the more I look at the text of Galatians I start to think that the orchard metaphor may be a more pleasing one but not entirely consistent with what we find in the letter. But if not that then what image is appropriate? What about a prison metaphor?
Think about it. In Galatians 3 we were told that we were "shut up under sin" and we were "kept in custody under the law." There is, of course, the idea of the tutor that tyrannical figure we hate rather than love because he treats us with hostility. And then in chapter 4, we have the two woman one free and one a slave. And then we have Galatians 5 with its talk of freedom. So, as undesirable as it feels I will utilize the prison metaphor.
Let me Illustrate
Several years ago a man in the congregation where I had been pastor was corresponding with an inmate. I should mention that the inmate was a professing Christian. After service one day, the man approached me with a request. The inmate was being released and had asked this man to pick him up and my congregant wanted me to accompany him. I, of course, agreed. On the day we picked this man up I tried to imagine how he must have felt what he must have thought. He was free. After being locked away for almost a decade he was free. I tried to put myself in his position. I even tried to gently coax him to comment on the experience. I could only think that it must have been amazing to actually walk away from the fence of the high level security prison. It must have been wonderful to drive away and let the prison drift out of sight. All of that must have been tremendous. However, after talking to him and hearing his plans I became concerned. He was not using his freedom wisely. He was not making good decisions and no amount of talking seemed to help. I couldn't help but think of that situation when I looked at the opening words of this text, "For you were called to freedom, brethren; only do not turn your freedom into an opportunity for the flesh…" (Galatians 5:13). In other words, do not squander your freedom! Or we might say it like this, do not engage in activity that is consistent with the slavery of the flesh but engage in activity that is consistent with the freedom of the Spirit. Now as we ready ourselves for a series on the fruit of the Spirit this text will help lay the ground work for us to engage in Spirit given freedom. In other words, this text will lay the groundwork that will enable us to process what the Apostle says about the fruit of the Spirit.
Our view of freedom Matters
Freedom, from a Christian perspective, is a type of bondage. That may be a bit disquieting but before you get all up in arms let's think about freedom and let's first think about freedom from the perspective of the world. There are many in the world who believe that in order to be free they must have the unencumbered power to choose from any number of options whether they desire any one of them or not. For over four hundred years, that view has been embodied by Satan in Milton's Paradise Lost. Do you remember what he said? Satan said I would rather reign in hell than serve in heaven! Now, that is the view of the world. And the implication is obvious. Anything that constrains my will must be inconsistent with freedom. According to the world, freedom must mean that I am autonomous, a law unto myself.
But the Christian sees freedom differently. The Christian understands that at one time he was a slave of sin. And what is more, he understands that Christ has set him free. But the question is what does this freedom look like? What is it? The answer is freedom looks like service. Christ has set me free in order that I might serve the living God. You were freed from sin's slavery and now we are slaves to God and we call that Christian freedom. And we learn a great lesson when we realize this. True freedom only comes from obedience to God. When Paul says to the Galatians, "You were called to freedom" he means you were called to obey God and enjoy the fellowship with him that results from that obedience.
The Hope we Have
It's at just this point that we find the encouragement or the hope we all need. In v. 13 of chapter 5 we read, "For you were called to freedom…" Notice the word "called." The verb tells us several things. But perhaps most important is this. The call is in the passive voice indicating that we were not only called but that the call was effectual. In other words, the call of the Father was brought to fruition by the Spirit in regeneration. This means that we don't serve in slavish fear. We don't serve believing we must earn something before God. Rather, we serve knowing that Christ earned salvation for us and our service flows from His resources. Those resources are visible in the fruit that the Spirit works in our lives. In the coming days we will have a look at those ripe fruits.
Jeffrey A Stivason (Ph.D. Westminster Theological Seminary) is pastor of Grace Reformed Presbyterian Church in Gibsonia, PA. He is also Professor of New Testament Studies at the Reformed Presbyterian Theological Seminary in Pittsburgh, PA. Jeff is also an online instructor for Westminster Theological Seminary, Philadelphia, PA. He is the author of From Inscrutability to Concursus (P&R), he has contributed to The Jonathan Edwards Encyclopedia (Eerdmans) and has published academic articles and book reviews in various journals. Jeff is the Senior Editor of Place for Truth (placefortruth.org) an online magazine for the Alliance of Confessing Evangelicals.
The Story of Scripture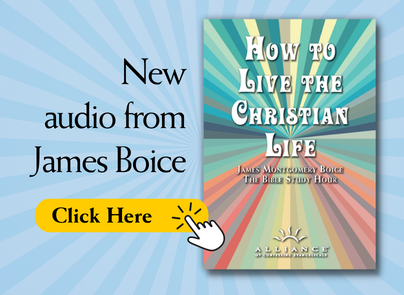 New audio from James Boice
Register for the Philadelphia Conference on Reformed Theology